| | | |
| --- | --- | --- |
| | canberrabirds | |
FW: [canberrabirds] Koels calling
| | |
| --- | --- |
| To: | "" <> |
| Subject: | FW: [canberrabirds] Koels calling |
| From: | Geoffrey Dabb <> |
| Date: | Wed, 10 Oct 2018 01:42:36 +0000 |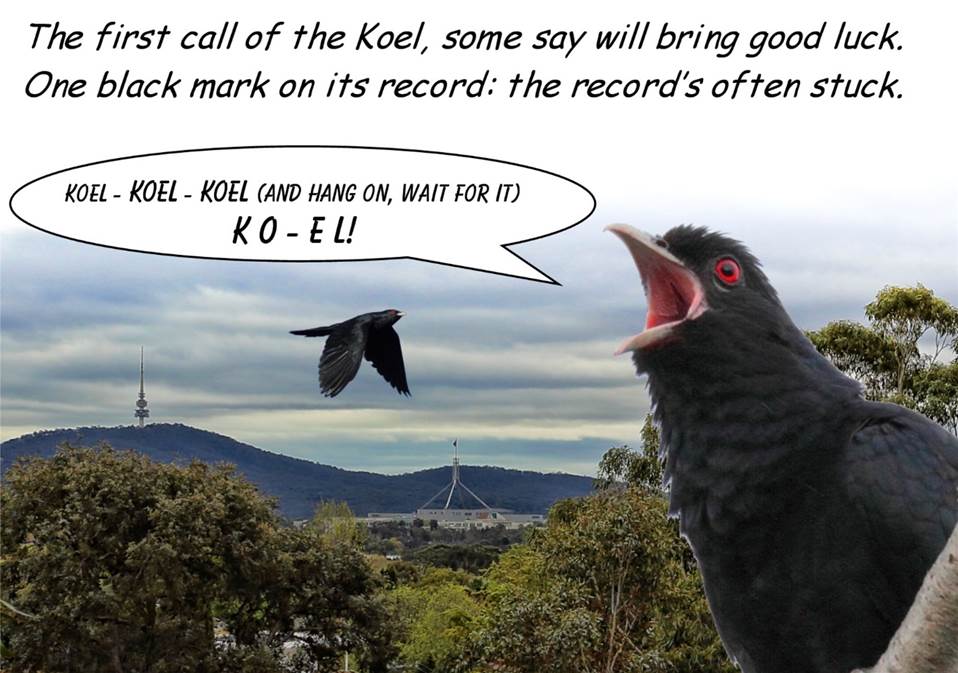 From: Dr David Rosalky <>
Sent: Wednesday, 10 October 2018 9:14 AM
To: 'Jack & Andrea Holland' <>;
Subject: RE: [canberrabirds] Koels calling
Male Koel calling near my home in Deakin this morning.
David R
From: Jack & Andrea Holland
Sent: Tuesday, 9 October 2018 8:07 PM
To:
Subject: [canberrabirds] Koels calling
After hearing my first male Koel calling (both calls) across Darwinia Tce in Rivett around 8:15 this morning I followed up similar calling (mainly koel) this afternoon and found 2 males in the small park about 300 m from our house.
Celia Hindmarsh first reported a male calling from very close by a week ago on 2 October. Interestingly this is a favourite location in the area for Koels and was the core area for 2 fledglings which spent over 3 weeks there in January/February.
Interesting also is that Celia's is the only record so far this season on the eBird map, others of course may have been put on GBS charts etc.
<Prev in Thread]
Current Thread
[Next in Thread>

FW: [canberrabirds] Koels calling, Geoffrey Dabb <=
Admin
The University of NSW School of Computer and Engineering takes no responsibility for the contents of this archive. It is purely a compilation of material sent by many people to the Canberra Ornithologists Group mailing list. It has not been checked for accuracy nor its content verified in any way. If you wish to get material removed from the archive or have other queries about the list contact David McDonald, list manager, phone (02) 6231 8904 or email . If you can not contact David McDonald e-mail Andrew Taylor at this address: andrewt@cse.unsw.EDU.AU