There is some better thought out commentary on that to come in articles, including the next CBN, than anything I would jot in an email so I will leave it to that. My background is mainly with species for which sample sizes can be larger and even in those cases there can be some interesting swings in the pattern, so I am intuitively wary of what I have read about raptor nest success rates based on sample sizes less than 100 pairs. We had a discussion of Little Eagle nest success in a meeting recently with Stephen Debus who had an Honours student looking at the Little Eagles near Armidale this last season. Fledging rate was higher this year at New England than Canberra but there was also commentary about difference in the detail of weather. Cheers, Don
From: Geoffrey Dabb <>
Sent: Friday, 20 April 2018 12:28 PM
To:
Subject: FW: [canberrabirds] Fw: Article Little Eagle
Thank Don. Certainly very interesting. What is the normal nest-success rate for pairs of Little Eagles?
gd
From: Don Fletcher
Sent: Friday, 20 April 2018 12:10 PM
To: 'Ryu Callaway'; 'COG Chat'
Subject: RE: [canberrabirds] Fw: Article Little Eagle
Thanks Ryu.
Who could not be excited by the map below which illustrates what the words in the release are partly about? Who would not be joyful when increased searching this last season found that the number of active nests of a threatened species is actually at least three times higher than the two nests found by the normal search effort? The first is extraordinary and intriguing, the second positive and encouraging.
On the attached map in yellow is the track to date of the juvenile female currently flying around Queensland, in red is the 2017 route to Daly Waters (NT) that we have seen before, and in green the 2016 return from Wagga of the same breeding male. (The flow of GPS data from his tracking pack had stopped when he was still in the ACT then mysteriously resumed as he passed through Wagga on his way back to Canberra in 2016. In retrospect that may have been the final stage of a longer journey.)
These are preliminary research results but already they indicate that a locally based management strategy would be insufficient. (Some of the individual eagles of Queensland and the Northern Territory are literally the same individual birds that we are seeing in NSW and the ACT - where they are listed as threatened species). An interesting question is what are the Little Eagles that remain in Canberra over winter?
But there are also questions of more immediate public interest:
Will our little bird in Queensland survive the winter? If she survives, will she return in spring, not until she reaches breeding age, or not at all? (She can be identified by the 2 digit code on the colour band on her left leg - see photo below). And if she returns, where will she have travelled before turning back?
Don Fletcher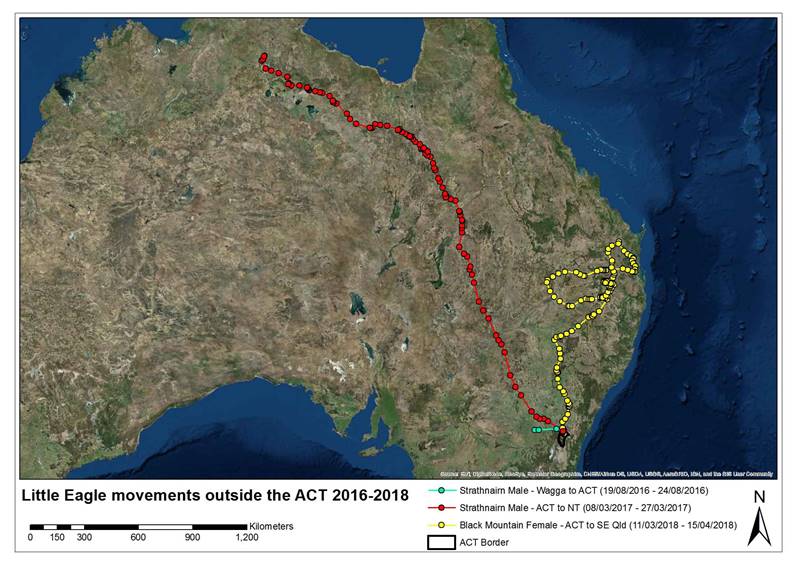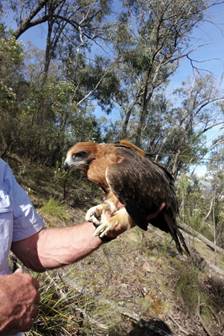 -----Original Message-----
From: Ryu Callaway <>
Sent: Thursday, 19 April 2018 8:18 PM
To: COG Chat <>
Subject: [canberrabirds] Fw: Article Little Eagle
http://www.canberratimes.com.au/act-news/act-news/record-act-breeding-season-for-threatened-little-eagles-20180417-p4za7p.html
*******************************************************************************************************
This is the email announcement and discussion list of the Canberra
Ornithologists Group.
Emails posted to the list that exceed 200 kB in size, including attachments,
will be rejected.
All emails distributed via the list are archived at
http://bioacoustics.cse.unsw.edu.au/archives/html/canberrabirds. It is a
condition of list membership that you agree to your contributions being
archived.
When subscribing or unsubscribing, please insert the word 'Subscribe' or
'Unsubscribe', as applicable, in the email's subject line.
List-Post: <>
List-Help: <>
List-Unsubscribe: <>
List-Subscribe: <>
List manager: David McDonald, email
<>