| | | |
| --- | --- | --- |
| | canberrabirds | |
leucistic Crimson Rosella
| | |
| --- | --- |
| To: | canberrabirds chatline <> |
| Subject: | leucistic Crimson Rosella |
| From: | Sue Lashko <> |
| Date: | Sun, 5 Nov 2017 08:34:18 +0000 |
Today while surveying for the Braidwood Landcare group, John Brannan spotted an "odd" rosella in company with an adult Crimson Rosella. They were showing considerable interest in a tree hollow. The bird looked like a paler version of a Yellow Rosella flaveolus with blue cheeks but no red frons. Afterwards, at lunch one of the property owners showed us the attached photo, taken in August about 15 km as a the crow (rosella?) flies from today's sighting. Both John and I thought that the bird we saw today was more yellow than the bird in the photo but that could be because it was taken through a window, light, camera etc. (NB: the photo was given to me as a printed version and hasn't been enhanced etc).
One other Landcare member said that he first saw one of these pale rosellas in the Braidwood area in 1998,. which raises a couple of questions?
would a rosella live for at least 19 years?
would a pale bird like this mate with a crimson bird and produce pale offspring, or crimson offspring or some of each?
Cheers
Sue
Attachment: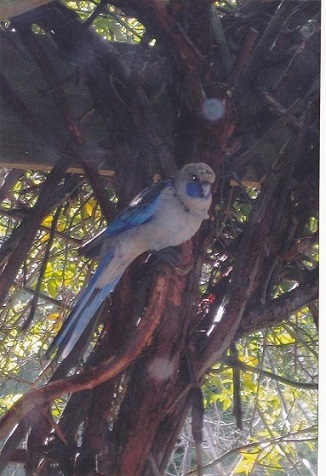 Description: IMG.jpg

ATT00001.txt
Description: ATT00001.txt
Admin
The University of NSW School of Computer and Engineering takes no responsibility for the contents of this archive. It is purely a compilation of material sent by many people to the Canberra Ornithologists Group mailing list. It has not been checked for accuracy nor its content verified in any way. If you wish to get material removed from the archive or have other queries about the list contact David McDonald, list manager, phone (02) 6231 8904 or email . If you can not contact David McDonald e-mail Andrew Taylor at this address: andrewt@cse.unsw.EDU.AU