| | | |
| --- | --- | --- |
| | canberrabirds | |
FW: [canberrabirds] Scarlet Honeyeaters at ANBG
| | |
| --- | --- |
| To: | "" <> |
| Subject: | FW: [canberrabirds] Scarlet Honeyeaters at ANBG |
| From: | Geoffrey Dabb <> |
| Date: | Fri, 6 Oct 2017 22:53:46 +0000 |
I suppose we are talking about the same spot yesterday that was the centre of attention not only for several honeyeater spp but for snappers and 'what's going on here?' passers-by, nearly all of whom carried phones and a high proportion of whom were pushing baby-carriages. Sometimes those Bot Gardens paths, like Northbourne Avenue, are not big enough for everyone. To me the remarkable thing was the demonstration yet again of the remarkable bird-attracting qualities of Grevillea arenaria. I've had a couple in my garden and they call in birds when nothing else to seems to have the same effect, However the foliage is not all that attractive and the adjacent shrub, while not so well tenanted, had a spidery texture that set off the gaudy little chaps more pleasingly.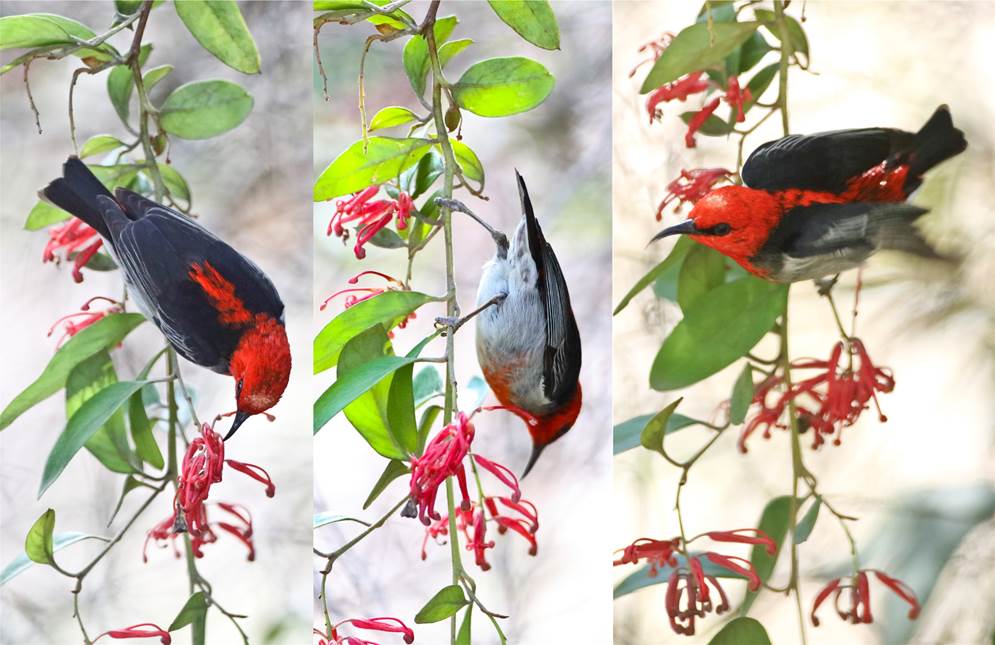 From: Julie Clark [
Sent: Friday, 6 October 2017 9:20 PM
To: COG Chatline
Subject: [canberrabirds] Scarlet Honeyeaters at ANBG
Following on from Con's emails regarding the Scarlet Honeyeaters, I too have gone through my photos, most of which were taken earlier in the day, and I think that I snapped a third brown bird. It has some colour on the head and face, but is definitely a different bird to the one Con has shown (which I also photographed.) I'm not sure if it's a second female or another younger male (photo NoC8A8602 on Flickr). Advice would be appreciated.
Photos of each of the 5 birds that I snapped are on Flickr. I'm not sure that I actually saw a third adult male, but it was hard to keep track of them.
Richard, Lindell and I also saw the Olive Whistler today in the region of the Owlet Nightjar (one photo also on Flickr).

--
<Prev in Thread]
Current Thread
[Next in Thread>

FW: [canberrabirds] Scarlet Honeyeaters at ANBG, Geoffrey Dabb <=
Admin
The University of NSW School of Computer and Engineering takes no responsibility for the contents of this archive. It is purely a compilation of material sent by many people to the Canberra Ornithologists Group mailing list. It has not been checked for accuracy nor its content verified in any way. If you wish to get material removed from the archive or have other queries about the list contact David McDonald, list manager, phone (02) 6231 8904 or email . If you can not contact David McDonald e-mail Andrew Taylor at this address: andrewt@cse.unsw.EDU.AU