Another point is I think it is hard to sneak up on most raptors without them looking at you. These photos show it. Even facing away they are almost certain to have seen you before you maybe think they have.
Ann could have been asking the question as to species, morph or gender ('he"). Of these items, I chose to confirm only in respect of species. I took the "sitting" as a given........
Philip
From: Geoffrey Dabb [
Sent: Wednesday, 25 May, 2016 3:41 PM
To:
Subject: FW: [canberrabirds] ANBG today
Ah. The unfashionable backshot - not so often seen these days as most photographers lack the patience to wait until the bird turns its back. On probabilities the bird is likely to be a pale morph as no dark birds have been confirmed in the pairs currently holding territory around Canberra. However a transient is possible. On the photo alone I wouldn't be certain as the back colour is within the range for either morph given variables of light and shadow, age and state of moult - and above all the effect of the editing toolbox. In the below the left bird is a dark, the right bird a pale and the middle 2 pale morph first year birds. 'Pale' and 'dark' really refer to the underparts.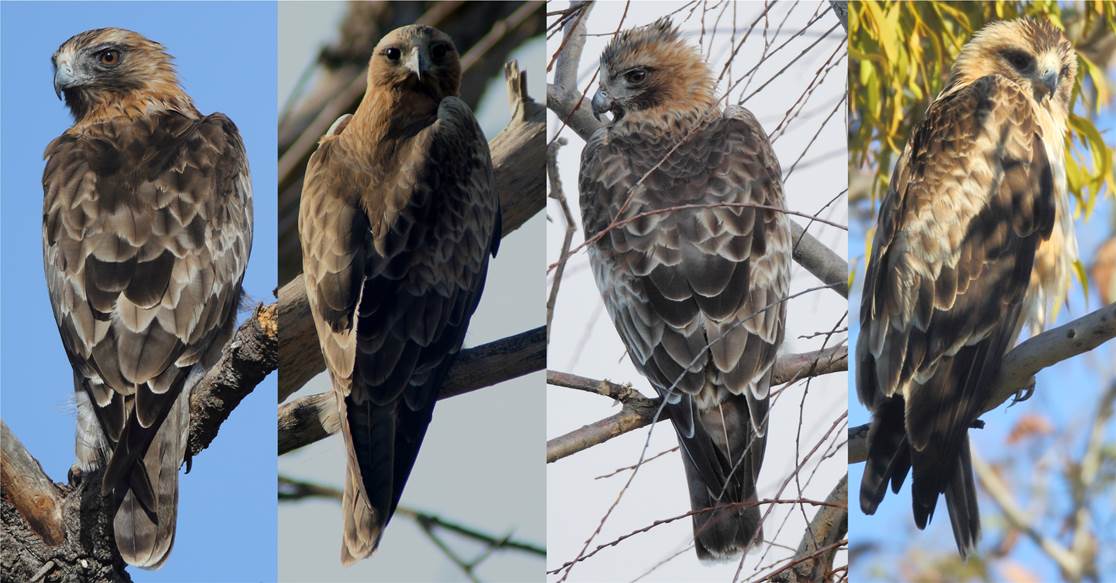 -----Original Message-----
From: [
Sent: Wednesday, 25 May 2016 11:48 AM
To: Ann Eldridge
Cc: Canberra Birds
Subject: ANBG today
Sure is.
Philip
I am hoping I have my ID correct for this raptor, a Little Eagle sitting quietly for me to take several shots, could not get him flying as he was amongst the trees but I think he is a light morph?
Cheers
Ann