This interesting. When we first moved into Duffy in 1973 Crescents were regular visitors. After a few years they stopped coming and I think I've heard them only a couple of times in the last 20 years. It would be nice to think they could be on the comeback trail around here!
I had my "me too" moment this morning when watching a juvenile/immature Crescent Honeyeater fossicking about various flowering bushes in several adjacent front gardens. I had wondered since Sandra's and Jack's emails whether we might get some 'overflow' into Gleneagles (Kambah) from the 'Bidgee corridor.
This is just the second time I've recorded the species for my GBS in the nearly 7 years we've been at this house. The previous was an adult male on 24 Apr 2010.
Always a nice bird to see. And hear – this one was obviously still learning its own call!
Harvey
HarPer's Bizarre – a naturalist's miscellany at http://hdpphd.blogspot.com.au/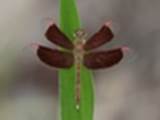 From: Jack & Andrea Holland [
Sent: Thursday, 12 May 2016 12:34 PM
To: 'Cog line'
Subject: Re: [canberrabirds] interesting sightings this morning
Sandra, a very interesting observation.
We've had Crescent Honeyeaters in and around our garden in Chapman for about 35 years, and 8 is certainly a big number reasonably close together. It's not unusual to get 2 close together, and sometimes a few more in a loose association, though in some years particularly pre the 2003 fires from their call they seemed to be very well spread throughout Chapman.
Interesting habitat they were observed in too, I would have expected they'd be feeding in the Grevillea juniperina that also found in that area (perhaps not flowering yet?).
I suspect they're on the move from the higher parts of the ACT, so keep an ear out for them in your local patch, their very loud call will readily alert you to their presence.
Sent: Thursday, May 12, 2016 11:37 AM
Subject: RE: [canberrabirds] interesting sightings this morning
I also go there sort of regularly. Although most sort of counts are by hearing them from the upper walkway (which changed after 2003), with only a handful of viewings over the years. In winter usually. Can't think that I have ever noticed as much as 8 in a day (anywhere – perhaps in Tasmania). They are normally far less social than most honeyeaters and I find at that place on those times that I do notice them, would usually space out something like 100 to 200 metres apart.
Philip
From: sandra henderson
Sent: Thursday, 12 May, 2016 9:54 AM
To: Cog line
Subject: [canberrabirds] interesting sightings this morning
At Kambah Pool Reserve, at least eight Crescent Honeyeaters moving through flowering mistletoe on the casuarinas at water's edge. Birds were in trees both sides of river, and calling frequently. Have not seen such a large number of these in the past, and have never seen one in this reserve in the past.
At the roundabout on Tralee St in Hume, a fox carrying what I suspect was a raven, being pursued by nine ravens.
*************************************************************************
The information contained in this e-mail, and any attachments to it,
is intended for the use of the addressee and is confidential. If you
are not the intended recipient you must not use, disclose, read,
forward, copy or retain any of the information. If you received this
e-mail in error, please delete it and notify the sender by return
e-mail or telephone.
The Commonwealth does not warrant that any attachments are free
from viruses or any other defects. You assume all liability for any
loss, damage or other consequences which may arise from opening
or using the attachments.
The security of emails transmitted in an unencrypted environment
cannot be guaranteed. By forwarding or replying to this email, you
acknowledge and accept these risks.
*************************************************************************