| | | |
| --- | --- | --- |
| | canberrabirds | |
Superb parrot paradise found
| | |
| --- | --- |
| To: | 'Geoffrey Dabb' <>, "" <> |
| Subject: | Superb parrot paradise found |
| From: | Suzanne EDGAR <> |
| Date: | Thu, 31 Dec 2015 23:07:47 +0000 |
V nice!
Sz
From: Geoffrey Dabb [
Sent: Thursday, 31 December 2015 6:08 PM
To:
Subject: FW: [canberrabirds] Superb parrot paradise found
Paid a quick visit this morning. Apart from being the ACT's dog-walking capital, the periphery of Mount Rogers is well equipped with fruit trees, which at 3 points were getting the attention of the parrots. As the cherry growers of Young know well, this species likes a bit of fruit, probably a source of moisture in dry weather too. Like lorikeets, they seem to express the juice between tongue and bill.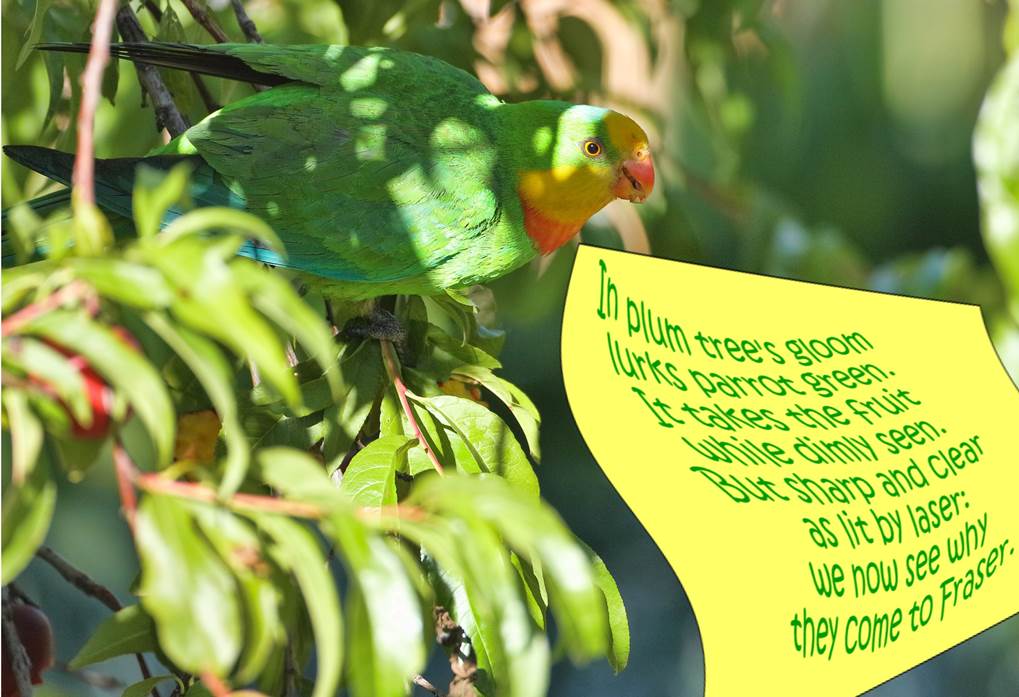 From: Dennis Ayliffe
Sent: Wednesday, 30 December 2015 10:05 AM
To: Canberra Birds
Subject: [canberrabirds] Superb parrot paradise found
Good morning
During our regular circumnavigation of Mt Rogers this morning I saw dozens of superb parrots including many youngsters in the green space to the south of the Wickens Place carpark and to the east of the well-named Bird Place in Flynn. Lots of short flights accompanied by calling mostly in what I assume to be family parties of three individuals. Worth a look if you are in the area, particularly in the mornings.
<Prev in Thread]
Current Thread
[Next in Thread>

Superb parrot paradise found, Suzanne EDGAR <=
Admin
The University of NSW School of Computer and Engineering takes no responsibility for the contents of this archive. It is purely a compilation of material sent by many people to the Canberra Ornithologists Group mailing list. It has not been checked for accuracy nor its content verified in any way. If you wish to get material removed from the archive or have other queries about the list contact David McDonald, list manager, phone (02) 6231 8904 or email . If you can not contact David McDonald e-mail Andrew Taylor at this address: andrewt@cse.unsw.EDU.AU