| | | |
| --- | --- | --- |
| | canberrabirds | |
FW: [canberrabirds] COG's success in the ACT Sustainable Cities Award
| | |
| --- | --- |
| To: | "" <> |
| Subject: | FW: [canberrabirds] COG's success in the ACT Sustainable Cities Award |
| From: | Geoffrey Dabb <> |
| Date: | Fri, 28 Aug 2015 04:26:06 +0000 |
Quite an achievement
From: Martin Butterfield [
Sent: Friday, 28 August 2015 1:28 PM
To: Alison Russell-French
Cc: Alan Thomas; canberra birds
Subject: Re: [canberrabirds] COG's success in the ACT Sustainable Cities Award
OK. Here is a photo from the KAB site.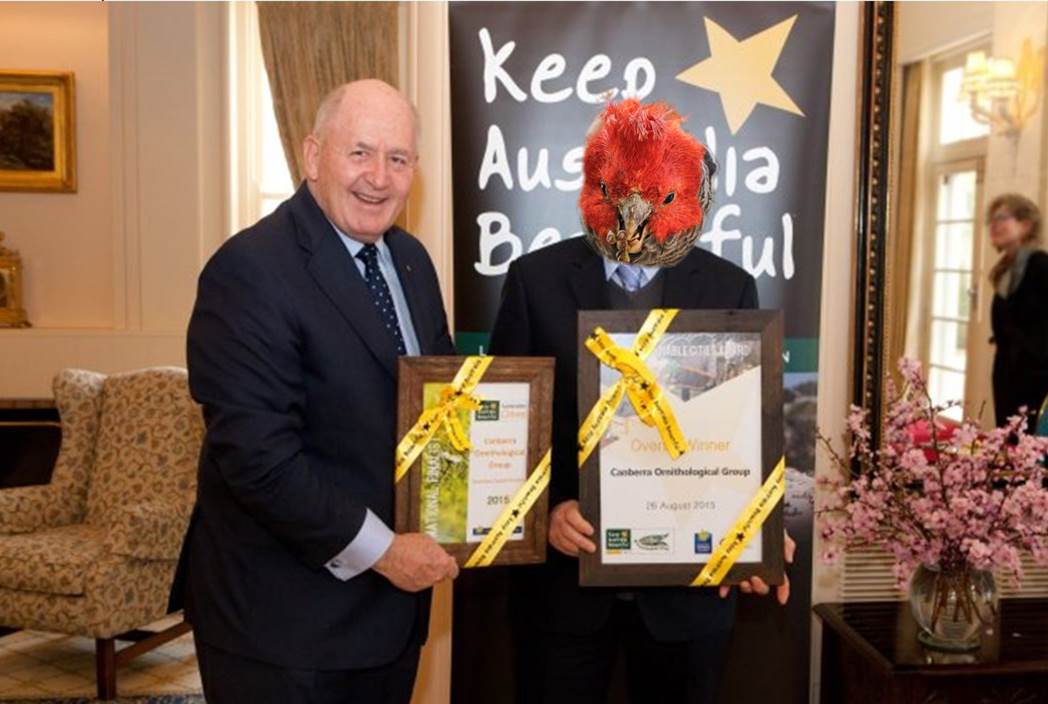 ​
On 28 August 2015 at 10:59, Alison Russell-French <> wrote:
HI Martin
It won't be up yet as COG is in the judging for the final national award. It is probably not appropriate to put it up until that has taken place in September and the awards announced. We wouldn't want to compromise out chances in the national competition. Cheers
Alison
From: Martin Butterfield [
Sent: Friday, 28 August 2015 9:36 AM
To: Alan Thomas
Cc: canberra birds
Subject: Re: [canberrabirds] COG's success in the ACT Sustainable Cities Award
Well done. Where can I find the submission on the COG website?
On 28 August 2015 at 09:30, Alan Thomas <> wrote:
COG won the Keep Australia Beautiful ACT Sustainable Cities Award in the Nature Conservation Category and was also the overall winner for the ACT awards.
I received the rewards on behalf of COG at a ceremony at Government House. The awards are framed certificates.
Being the overall winner means we are now in the National competition which will be judged in September, and the results announced at a ceremony in Brisbane in November.
COG's application was put together by Alison Russell- French, Neil Hermes and myself with help from Jenny Bounds and Chris Davey. We were obviously a great team.
I will bring the awards to the next members' meeting for members to have a look at them.
<Prev in Thread]
Current Thread
[Next in Thread>

FW: [canberrabirds] COG's success in the ACT Sustainable Cities Award, Geoffrey Dabb <=
Admin
The University of NSW School of Computer and Engineering takes no responsibility for the contents of this archive. It is purely a compilation of material sent by many people to the Canberra Ornithologists Group mailing list. It has not been checked for accuracy nor its content verified in any way. If you wish to get material removed from the archive or have other queries about the list contact David McDonald, list manager, phone (02) 6231 8904 or email . If you can not contact David McDonald e-mail Andrew Taylor at this address: andrewt@cse.unsw.EDU.AU