I think the photo I posted last Friday was of a sugar glider.
John Bundock
0400249429
From: Janet Russell [
Sent: Friday, 21 August 2015 9:35 AM
To: Martin Butterfield
Cc: Philip Veerman; Terry Bird; COG List
Subject: Re: [canberrabirds] Turner, the powerful owl update
Is the commuting range of the powerful owl known?

On Thursday, 20 August 2015, Martin Butterfield <> wrote:
I looked up the Atlas of Living Australia to see where they record Greater Gliders. They have some 19,000 records of the species which is a pretty good sample. At a very small scale the Gliders are in this area.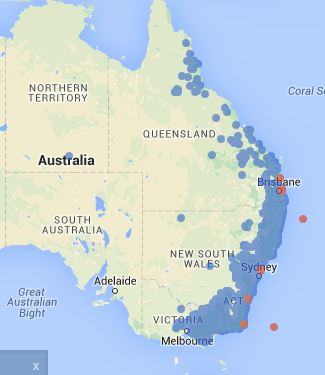 ​However zooming in shows that they are not too close to the Turner Bowlo.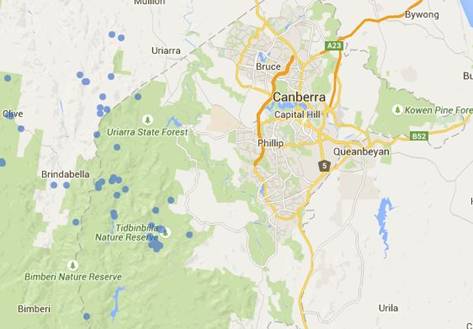 ​Using Google Earth the closest record held by ALA is about 24km in a straight line from Turner. Also, looking at the record more closely it is a Museum record 'collected' in 1955.
In the same way as Quolls have been found in Belconnen in the medium past it may be possible that a particularly bold and/or hungry Greater Glider has glided across from the Brindabellas to Black Mountain or Mount Ainslie. Alternatively one wonders if the National Zoo had more Greater Gliders than is now the case? I suspect the Zoo is just about within commuting range for the Turner bird.
On 19 August 2015 at 17:04, Philip Veerman <m("pcug.org.au')","_e(%7B%7D,'cvml','pveerman");;" target="_blank">> wrote:
I wonder where it would find a greater glider within commuting distance of
Turner.

Philip


-----Original Message-----
From: Terry Bird [mailto:m("gmail.com')","_e(%7B%7D,'cvml','terrybellbird");;" target="_blank">]
Sent: Wednesday, 19 August 2015 2:55 PM
To: chatline canberrabirds
Subject: [canberrabirds] Turner, the powerful owl update

Undeterred from their exertions on the very successful mid-week visit to
Campbell Park the two Terriers then called in to the Canberra North Bowling
Club to provide this report. Firstly, as we suspected the owl does change
perching locations in this area and obviously is often hard to find. Thanks
to the perseverance of T1 it was found in a very dense cypress type tree,
third from road, next to the open drain. Last Friday it was observed
consuming a clearly identifiable greater glider and today a change of diet
perhaps. Photos from my basic digital camera suggest either a sugar glider
or a squirrel glider. For the benefit of a large and increasing COG
readership would some obliging member with sophisticated zoom equipment
visit Turner in it's new position to confirm the identity of the latest
predation. Thanking in you advance.................T2

Sent from my iPad


*******************************************************************************************************
This is the email announcement and discussion list of the Canberra Ornithologists Group.
Emails posted to the list that exceed 200 kB in size, including attachments, will be rejected.
When subscribing or unsubscribing, please insert the word 'Subscribe' or 'Unsubscribe', as applicable, in the email's subject line.
List-Post: <mailto:m("canberrabirds.org.au')","_e(%7B%7D,'cvml','canberrabirds");;" target="_blank">>
List-Help: <mailto:m("canberrabirds.org.au')","_e(%7B%7D,'cvml','canberrabirds-help");;" target="_blank">>
List-Unsubscribe: <mailto:m("canberrabirds.org.au')","_e(%7B%7D,'cvml','canberrabirds-unsubscribe");;" target="_blank">>
List-Subscribe: <mailto:m("canberrabirds.org.au')","_e(%7B%7D,'cvml','canberrabirds-subscribe");;" target="_blank">>
List archive: <http://bioacoustics.cse.unsw.edu.au/archives/html/canberrabirds>
List manager: David McDonald, email <mailto:m("canberrabirds.org.au')","_e(%7B%7D,'cvml','coglists-owner");;" target="_blank">>


--
Ph: +612 6251 8949
M: 0406 944 462