| | | |
| --- | --- | --- |
| | canberrabirds | |
Which Martin am I
| | |
| --- | --- |
| To: | 'Martin Butterfield' <> |
| Subject: | Which Martin am I |
| From: | Philip Veerman <> |
| Date: | Tue, 11 Aug 2015 00:22:57 +0000 |
Thanks Martin for providing the graphs. Just a little addendum. Those graphs are based on reporting rate. My comments are based on abundance measures (because that was the primary item within the GBS). Because these are all social species, comments based on abundance measures will show more variation than comments based on reporting rate. I was a little surprised that the Fairy Martin could be as high as 1/3 but that is in reporting rate and to clarify that is about 1/3 of the Tree Martin (not the Welcome Swallow). Also I suggest it would be much less than 1/3 in abundance. From the GBS graphs the FM is only about 5% to 10% of abundance of the TM. And sure GBS is only part of the story, as suburban habitat is variably marginal habitat for all three. The TM likes woodland and the FM likes places close to water, so FM observations from GBS should be less than general data records............ I also suspect that given that they fly high over urban areas there is a contribution of some misidentified Martins in GBS results (and maybe general data) over the years.
Philip
From: Martin Butterfield [
Sent: Tuesday, 11 August 2015 6:01 AM
To: Philip Veerman
Cc: kym bradley; COG List
Subject: Re: [canberrabirds] Which Martin am I
Always interesting to look at the COG website birdinfo page for matters migrational.
For the three likely hirundines in this area the Welcome Swallow is as has been said in answer to a previous post pretty much a year round resident (although I think somewhat less so in the hinterland as exemplified by Carwoola). It also has a much higher reporting rate.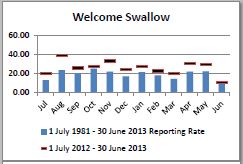 The Tree Martin is more of a migrant, with return happening in August. From comments on the chatline, and observations out here they seem to have overwintered more (or returned earlier this year.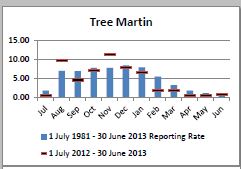 The Fairy Martin is almost a complete migrant and as Philip says less common (about 1/3rd the reporting rate).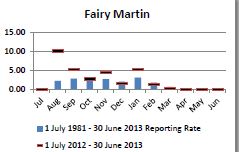 ​
On 10 August 2015 at 23:57, Philip Veerman <> wrote:
A Tree Martin, by far the more common one around here . Though that is not the reason, it doesn't have any rufous cap, not overly white below and dark smudgy face.
Philip
From: kym bradley [
Sent: Monday, 10 August 2015 9:26 PM
To:
Subject: [canberrabirds] Which Martin am I
Taken today Fairy Martin ????
Admin
The University of NSW School of Computer and Engineering takes no responsibility for the contents of this archive. It is purely a compilation of material sent by many people to the Canberra Ornithologists Group mailing list. It has not been checked for accuracy nor its content verified in any way. If you wish to get material removed from the archive or have other queries about the list contact David McDonald, list manager, phone (02) 6231 8904 or email . If you can not contact David McDonald e-mail Andrew Taylor at this address: andrewt@cse.unsw.EDU.AU