| | | |
| --- | --- | --- |
| | canberrabirds | |
Powl update
| | |
| --- | --- |
| To: | "'Martin Butterfield'" <>, "'COG List'" <> |
| Subject: | Powl update |
| From: | "John Bundock" <> |
| Date: | Mon, 20 Apr 2015 18:11:01 +1000 |
It was in the oaks the past 2 days. Terry also pointed it out to me today. He also showed me this ringtail, at the base of the tree; not the tree in which the owl was perched. Whist I was there the owl was being harassed by currawongs. A large number of them were also hassling it 2 days ago.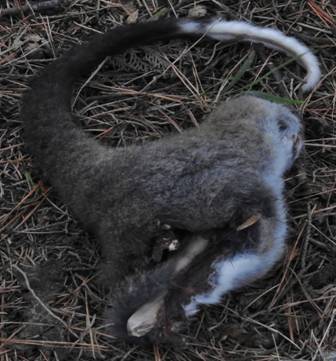 John Bundock
0400249429
From: Martin Butterfield [
Sent: Monday, 20 April 2015 2:50 PM
To: COG List
Subject: [canberrabirds] Powl update
I swung by the bowlo around 1245 today and was having no luck finding the bird in any of the front line trees. This was greatly to the disappointment of a couple who had traveled across town - several times - to find and dipped on every occasion. Fortunately Powlmeister Munro appeared and found the bird almost instantly in a pine about 3 rows out into Haig Park. The lady of the couple was extremely excited that she had finally spotted it!
Admin
The University of NSW School of Computer and Engineering takes no responsibility for the contents of this archive. It is purely a compilation of material sent by many people to the Canberra Ornithologists Group mailing list. It has not been checked for accuracy nor its content verified in any way. If you wish to get material removed from the archive or have other queries about the list contact David McDonald, list manager, phone (02) 6231 8904 or email . If you can not contact David McDonald e-mail Andrew Taylor at this address: andrewt@cse.unsw.EDU.AU