| | | |
| --- | --- | --- |
| | canberrabirds | |
Trucking Yard Lane today
| | |
| --- | --- |
| To: | "'Martin Butterfield'" <>, "'COG List'" <> |
| Subject: | Trucking Yard Lane today |
| From: | "Peter Ormay" <> |
| Date: | Fri, 22 Aug 2014 10:19:47 +1000 |
It's a Mallard drake. In New Zealand there were hardly any pure Pacific Black Ducks left (they call them Grey Ducks) 40years ago due to hybridization with Mallards. I don't know what the situation is there now.  I think it should be removed. If its too close to a settlement to shoot then feeding and trapping may be the only option.
From: Martin Butterfield [
Sent: Thursday, 21 August 2014 1:13 PM
To: COG List
Subject: [canberrabirds] Trucking Yard Lane today
Still no Plumed Whistling Ducks. However this was swimming around with the Black Ducks and Grey Teal: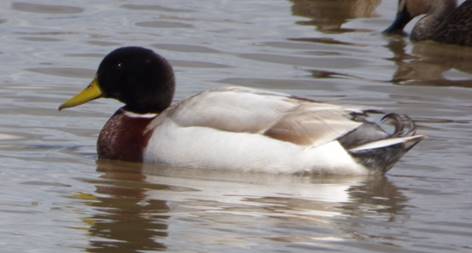 ​
To my mind this looks pretty much like a Mallard, with no Pacific Black Duck DNA. What doo others think?
Admin
The University of NSW School of Computer and Engineering takes no responsibility for the contents of this archive. It is purely a compilation of material sent by many people to the Canberra Ornithologists Group mailing list. It has not been checked for accuracy nor its content verified in any way. If you wish to get material removed from the archive or have other queries about the list contact David McDonald, list manager, phone (02) 6231 8904 or email . If you can not contact David McDonald e-mail Andrew Taylor at this address: andrewt@cse.unsw.EDU.AU