| | | |
| --- | --- | --- |
| | canberrabirds | |
Pied butcherbird
| | |
| --- | --- |
| Subject: | Pied butcherbird |
| From: | Joanne Kinsella <> |
| Date: | Sat, 16 Aug 2014 11:23:30 +1000 |
Hi everyone. Please excuse my ignorance but is it unusual to see a Pied Butcherbird in Canberra this time of year? There's been one hanging around Wanniassa for the last 2 or 3 weeks that I started noticing. Have seen it in my backyard and heard it calling around the locale. Didn't think it was worth mentioning.
Cheers, Joanne
---
Date: Sat, 16 Aug 2014 10:28:46 +1000
From:
To:
CC:
Subject: Re: [canberrabirds] Pied butcherbird
Harvey's message, and a comment by Ian Fraser on my blog, caused me to check out the
COG Birdinfo page about the specie
s.   Two particularly interesting snippets there are this map of sightings around 'Canberra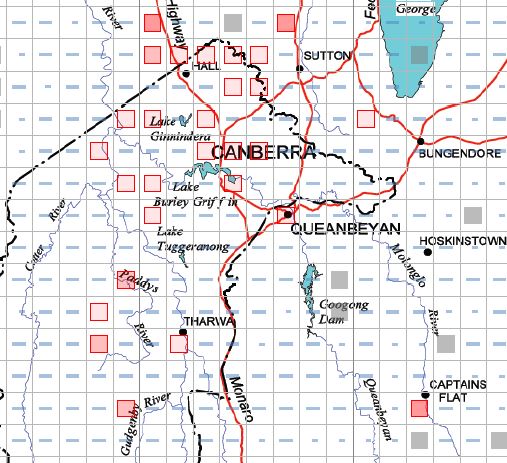 and the chart of reporting rates.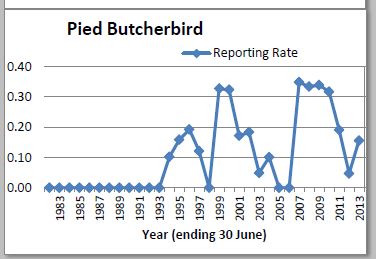 Admin
The University of NSW School of Computer and Engineering takes no responsibility for the contents of this archive. It is purely a compilation of material sent by many people to the Canberra Ornithologists Group mailing list. It has not been checked for accuracy nor its content verified in any way. If you wish to get material removed from the archive or have other queries about the list contact David McDonald, list manager, phone (02) 6231 8904 or email . If you can not contact David McDonald e-mail Andrew Taylor at this address: andrewt@cse.unsw.EDU.AU