| | | |
| --- | --- | --- |
| | canberrabirds | |
FW: [canberrabirds] Another new book of bird words: 'The Eponym Dictiona
| | |
| --- | --- |
| To: | <> |
| Subject: | FW: [canberrabirds] Another new book of bird words: 'The Eponym Dictionary of Birds' |
| From: | "Geoffrey Dabb" <> |
| Date: | Sun, 20 Apr 2014 10:12:44 +1000 |
After being labelled 'Tabuan Parrot' in Phillip's Voyage (1789) and White's Journal (1790), the bird was labelled 'King's Parrot' in the notes that George Caley sent to Vigors and Horsfield for their work on Australian birds. Caley also used 'King Parrot', apparently a reference to King in the same sense. Caley had arrived in the colony with Governor King in April 1800 (4 months after JW Lewin) and left in 1810. It is tempting to think that the pet King Parrot shown in Hunter's sketchbook might have belonged to King (his fellow officer). However King was at Norfolk Island for nearly all his first two periods in Australia (1788-17900; 1791-1796). King succeeded Hunter as governor in September 1800, and himself returned to England in 1806. It seems likely the term 'King's Parrot' (or 'King Parrot') came into use between 1800 and 1806.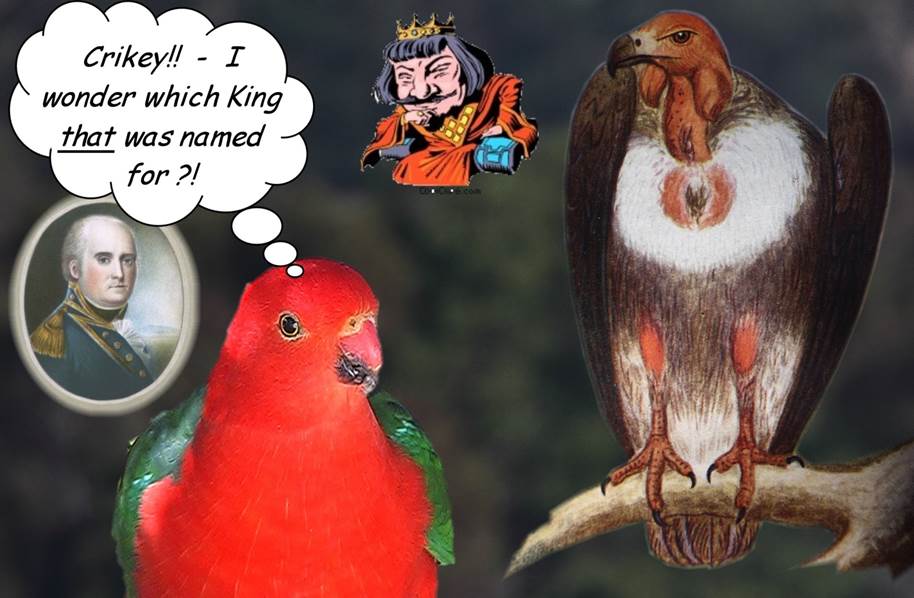 From: Denis Wilson
Sent: Saturday, 19 April 2014 8:30 PM
To: David McDonald (personal)
Cc: CanberraBirds
Subject: Re: [canberrabirds] Another new book of bird words: 'The Eponym Dictionary of Birds'
I feel one of Geoffrey Dabb's lectures on the origin of the name King Parrot coming on.
Good.
Time for a refresher on that subject.
Denis Wilson
Are you amongst Greg Hunt's "increasingly hysterical environmental activists"?
If not, why not?
The Great Barrier Reef decision of 31 January 2014 is a travesty.
Admin
The University of NSW School of Computer and Engineering takes no responsibility for the contents of this archive. It is purely a compilation of material sent by many people to the Canberra Ornithologists Group mailing list. It has not been checked for accuracy nor its content verified in any way. If you wish to get material removed from the archive or have other queries about the list contact David McDonald, list manager, phone (02) 6231 8904 or email . If you can not contact David McDonald e-mail Andrew Taylor at this address: andrewt@cse.unsw.EDU.AU