| | | |
| --- | --- | --- |
| | canberrabirds | |
Banded tern
| | |
| --- | --- |
| To: | "'Geoffrey Dabb'" <> |
| Subject: | Banded tern |
| From: | "Peter Ormay" <> |
| Date: | Tue, 15 Apr 2014 18:31:42 +1000 |
Thank you Geoffrey, Very interesting.
Were you able to see the rest of the band to get the full number?
Peter
From: Geoffrey Dabb [
Sent: Tuesday, 15 April 2014 2:39 PM
To:
Subject: [canberrabirds] Banded tern
I have been advised by ABBBS that the below bird was banded as a nestling at Mud Island Port Phillip Bay 5 years ago (and 600km away). I am required to acknowledge ABBBS and the Victorian Wader Study Group as the bander. Full band number was 091-50432
The uses of photography. This has been reported. We shall see.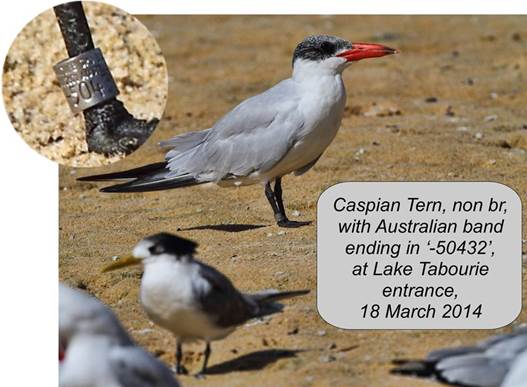 Admin
The University of NSW School of Computer and Engineering takes no responsibility for the contents of this archive. It is purely a compilation of material sent by many people to the Canberra Ornithologists Group mailing list. It has not been checked for accuracy nor its content verified in any way. If you wish to get material removed from the archive or have other queries about the list contact David McDonald, list manager, phone (02) 6231 8904 or email . If you can not contact David McDonald e-mail Andrew Taylor at this address: andrewt@cse.unsw.EDU.AU