| | | |
| --- | --- | --- |
| | canberrabirds | |
Fan-tailed Cuckoo (and Bettong) at Mulligans Flat
| | |
| --- | --- |
| To: | "Canberra Birds " <> |
| Subject: | Fan-tailed Cuckoo (and Bettong) at Mulligans Flat |
| From: | Robin Hide <> |
| Date: | Sun, 13 Apr 2014 03:48:38 +0000 |
Superb walk at Mulligans this morning. More than 80 Straw-necked Ibis grazing the paddock beyond the big dam. A glimpse of a Grey Butcherbird,
good view of a Fan-tailed Cuckoo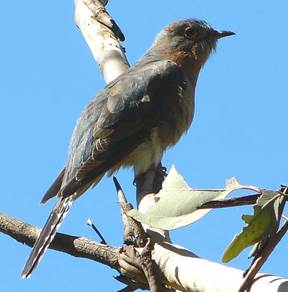 and then, to our delight, less than 100m from an exit gate, a Bettong bounded from under our feet and off into undergrowth about 20 m away (very much a first time for us)!
Now for a sighting of New Holland Mouse - the latest re-introduction? (http://www.mulligansflat.org.au/reintroductions.html)
Robin Hide
<Prev in Thread]
Current Thread
[Next in Thread>

Fan-tailed Cuckoo (and Bettong) at Mulligans Flat, Robin Hide <=
Admin
The University of NSW School of Computer and Engineering takes no responsibility for the contents of this archive. It is purely a compilation of material sent by many people to the Canberra Ornithologists Group mailing list. It has not been checked for accuracy nor its content verified in any way. If you wish to get material removed from the archive or have other queries about the list contact David McDonald, list manager, phone (02) 6231 8904 or email . If you can not contact David McDonald e-mail Andrew Taylor at this address: andrewt@cse.unsw.EDU.AU