| | | |
| --- | --- | --- |
| | canberrabirds | |
FW: [canberrabirds] ID assistance please
| | |
| --- | --- |
| To: | <> |
| Subject: | FW: [canberrabirds] ID assistance please |
| From: | "Geoffrey Dabb" <> |
| Date: | Tue, 1 Apr 2014 09:21:45 +1100 |
Once more, slide from off-the-shelf BIRDS OF CANBERRA talk, superseded version ….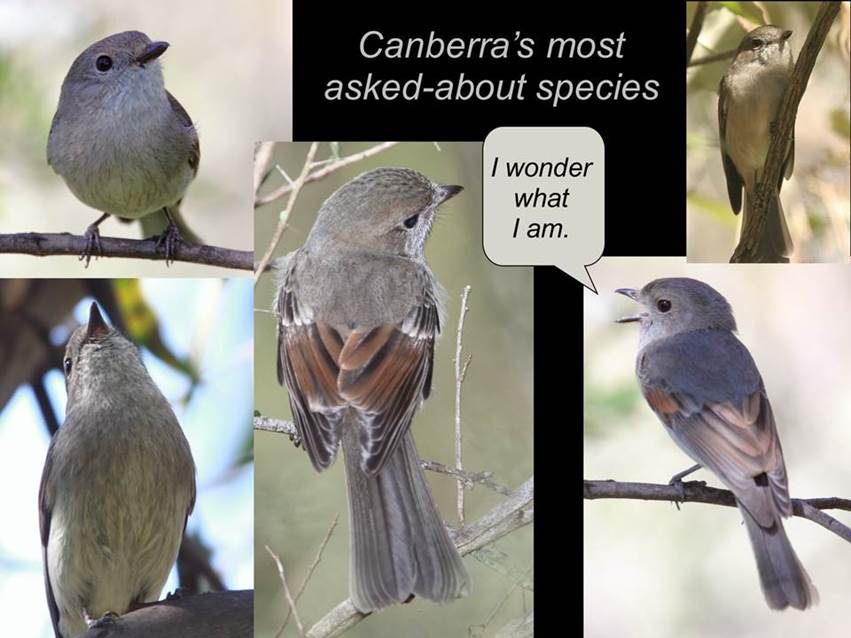 From: Duncan McCaskill [
Sent: Tuesday, 1 April 2014 9:05 AM
To: Denise Kay
Cc: Canberra Birds
Subject: Re: [canberrabirds] ID assistance please
Hi Denise,
Yes, it is an immature male Golden Whistler (the rufous on the wings identify it as young male).
They are quite common in the suburbs from Autumn to Spring when they move down from the mountains. In fact I can hear one calling in my garden right now. They are insectivores.
I have attached a version of the first of your photos with the exposure adjusted to make the bird more obvious.
On 1 April 2014 08:28, Denise Kay <> wrote:

I hope no one minds tho request but ...
This little one came into care last night minus tail feathers.
Received from the Kaleen vet..is it a young Golden Whistler ?




sorry about the quality , automatic focus is fine unless you are trying to take a shot through the bars.
If so are they a permanent resident ? insectivore ?

Sorry if the photo size is too big, I will work out the photo thing sooner or later!

Denise



*******************************************************************************************************
This is the email announcement and discussion list of the Canberra Ornithologists Group.
Emails posted to the list that exceed 200 kB in size, including attachments, will be rejected.
When subscribing or unsubscribing, please insert the word 'Subscribe' or 'Unsubscribe', as applicable, in the email's subject line.
List-Post: <mailto:m("canberrabirds.org.au","canberrabirds");">>
List-Help: <mailto:m("canberrabirds.org.au","canberrabirds-help");">>
List-Unsubscribe: <mailto:m("canberrabirds.org.au","canberrabirds-unsubscribe");">>
List-Subscribe: <mailto:m("canberrabirds.org.au","canberrabirds-subscribe");">>
List archive: <http://bioacoustics.cse.unsw.edu.au/archives/html/canberrabirds>
List manager: David McDonald, email <mailto:m("canberrabirds.org.au","coglists-owner");">>
Admin
The University of NSW School of Computer and Engineering takes no responsibility for the contents of this archive. It is purely a compilation of material sent by many people to the Canberra Ornithologists Group mailing list. It has not been checked for accuracy nor its content verified in any way. If you wish to get material removed from the archive or have other queries about the list contact David McDonald, list manager, phone (02) 6231 8904 or email . If you can not contact David McDonald e-mail Andrew Taylor at this address: andrewt@cse.unsw.EDU.AU