| | | |
| --- | --- | --- |
| | canberrabirds | |
Little Grassbird & others ...
| | |
| --- | --- |
| To: | "'John Harris'" <> |
| Subject: | Little Grassbird & others ... |
| From: | "Margaret Leggoe" <> |
| Date: | Tue, 18 Mar 2014 21:39:20 +1100 |
Dear John and Sue,
I wish to thank you both for conducting the tour of Crace wetlands on Sunday. It introduced me to an entirely new location. Perhaps we could name the Crace pond "Grassbird Heaven". I sat there for two hours this morning, and there were several little grassbirds busy in the reeds. One was carrying a feather as long as itself, perhaps a late nesting attempt? By sitting quietly for long enough the little birds finally came close enough for a good photo opportunity, and one of my images can be seen at this site.
m("N08/13233998155/","//www.flickr.com/photos/94803194");">http:
Thank you again
Margaret Leggoe
From: John Harris [
Sent: Monday, 17 March 2014 1:48 PM
To: Julie Clark; COG Chatline
Subject: Re: [canberrabirds] Little Grassbird & others ...
As we worked out before, Reed warbler is top L and Grassbird is top centre just down a bit. It is a very important image. They are obvious if the image is enlarged.
Can you crop and enlarge so folk just get the top LH segment? Dotterels are less important.
Alternately, people could enlarge it, zoom in or something.
Taken at Crace - poor quality photo but interesting to see Little Grassbird & Reed-Warbler (& others, incl. juvenile B-F Dotterel) in the same shot..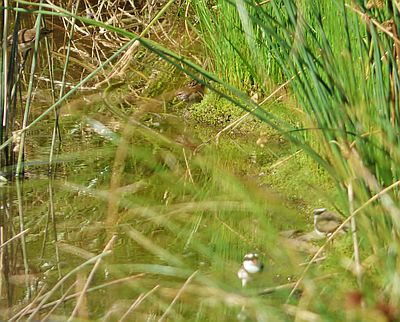 --
Admin
The University of NSW School of Computer and Engineering takes no responsibility for the contents of this archive. It is purely a compilation of material sent by many people to the Canberra Ornithologists Group mailing list. It has not been checked for accuracy nor its content verified in any way. If you wish to get material removed from the archive or have other queries about the list contact David McDonald, list manager, phone (02) 6231 8904 or email . If you can not contact David McDonald e-mail Andrew Taylor at this address: andrewt@cse.unsw.EDU.AU