| | | |
| --- | --- | --- |
| | canberrabirds | |
AOI - Currawang White-browed Woodswallows nests
| | |
| --- | --- |
| To: | COG <> |
| Subject: | AOI - Currawang White-browed Woodswallows nests |
| From: | jude hopwood <> |
| Date: | Tue, 7 Jan 2014 17:36:41 +1100 |
Dear All,
Martin emailed re: White-browed Woodswallows. Our personal stock here is enormous, and there are many nests which are at eye level and involve a lot of bad language from the parents when you pass by. 

When placing their young on the ground for snake feeding practice, the parents are quite upset when humans walk by and nearly tread on them, or if they've parked them neatly in the middle of the driveway!  Now, many young have just left nests all around our house area - the worst chosen site I've attached an image of is a 12 foot high hollow steel post - at least seven nests identified, but rather more around judging by the numbers of parents carrying food to many different sites. The parents are very aggressive in defending their young, especially those responsible for  the nest closest to our house - dubbed KFC for predators by Greg as it sits neatly on top of a Pittosporum hedge lining a footpath used many times a day by the two of us.
For someone who had never seen a WBWS until the week before the inundation, I do rather feel as if I've almost seen enough of them!
Respectfully,
Jude
Attachment: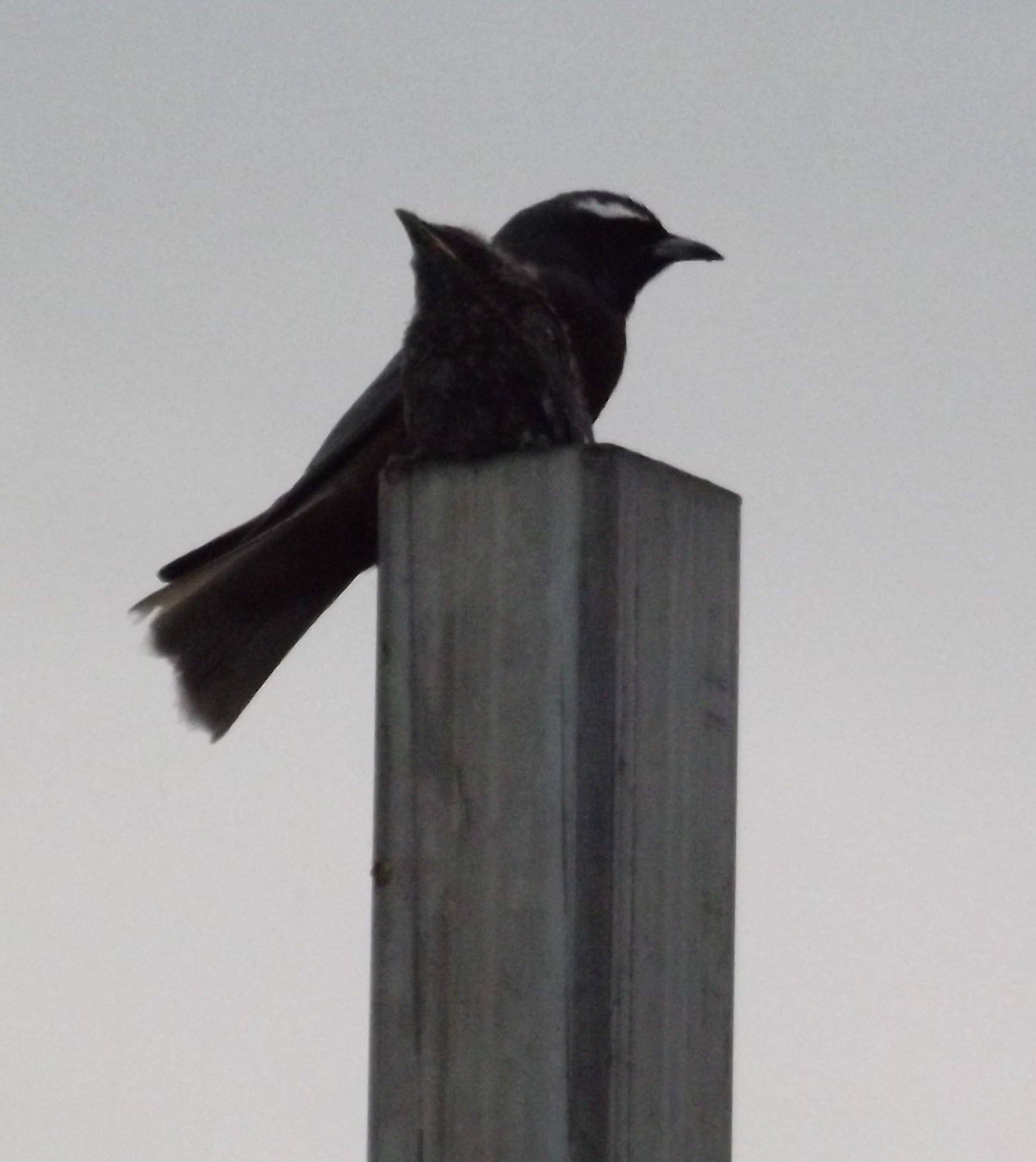 *******************************************************************************************************
This is the email announcement and discussion list of the Canberra 
Ornithologists Group.
Please ensure that emails posted to the list are less than 100 kB in size.
When subscribing or unsubscribing, please insert the word 'Subscribe' or 
'Unsubscribe', as applicable, in the email's subject line.
List-Post: <>
List-Help: <>
List-Unsubscribe: <>
List-Subscribe: <>
List archive: <http://bioacoustics.cse.unsw.edu.au/archives/html/canberrabirds>
List manager: David McDonald, email <>
<Prev in Thread]
Current Thread
[Next in Thread>

AOI - Currawang White-browed Woodswallows nests, jude hopwood <=
Admin
The University of NSW School of Computer and Engineering takes no responsibility for the contents of this archive. It is purely a compilation of material sent by many people to the Canberra Ornithologists Group mailing list. It has not been checked for accuracy nor its content verified in any way. If you wish to get material removed from the archive or have other queries about the list contact David McDonald, list manager, phone (02) 6231 8904 or email . If you can not contact David McDonald e-mail Andrew Taylor at this address: andrewt@cse.unsw.EDU.AU