| | | |
| --- | --- | --- |
| | canberrabirds | |
out of area for ID please
| | |
| --- | --- |
| To: | "COG Chatline" <> |
| Subject: | out of area for ID please |
| From: | "Lia Battisson" <> |
| Date: | Tue, 18 Jun 2013 20:47:26 +1000 |

Hi all


Can anybody identify this bird with the limited information and the attached silhouette for a friend of mine? the picture he sent me was 620Kb, so I cropped it. However, there wasn't much in the way of additional information in the original!




Hi Lia


I'm in the northern rivers of NSW and I'm struggling to identify a bird that I saw at Frederickton, near Kempsey. I wondered if you might have any ideas? Apologies for the photo, I only had my phone handy:
The closest I can get on my Morcomb app is a Fork-tailed Swift, however, it was glossy jet black without any white patches, it seems a bit big, the tail seems a bit too long, the beak seems too big and its the wrong time if year. Apart from that, it's a perfect Fit!


Bryan

Sent from my iPhone


Attachment: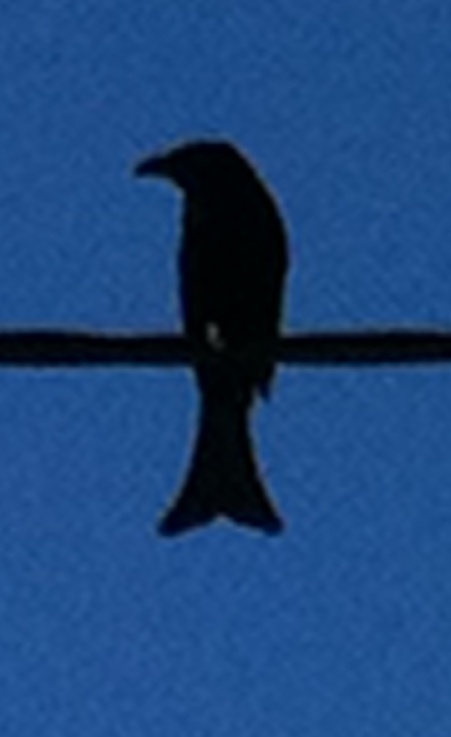 *******************************************************************************************************
This is the email announcement and discussion list of the Canberra 
Ornithologists Group.
Please ensure that emails posted to the list are less than 100 kB in size.
When subscribing or unsubscribing, please insert the word 'Subscribe' or 
'Unsubscribe', as applicable, in the email's subject line.
List-Post: <>
List-Help: <>
List-Unsubscribe: <>
List-Subscribe: <>
List archive: <http://bioacoustics.cse.unsw.edu.au/archives/html/canberrabirds>
List manager: David McDonald, email <>
Admin
The University of NSW School of Computer and Engineering takes no responsibility for the contents of this archive. It is purely a compilation of material sent by many people to the Canberra Ornithologists Group mailing list. It has not been checked for accuracy nor its content verified in any way. If you wish to get material removed from the archive or have other queries about the list contact David McDonald, list manager, phone (02) 6231 8904 or email . If you can not contact David McDonald e-mail Andrew Taylor at this address: andrewt@cse.unsw.EDU.AU