| | | |
| --- | --- | --- |
| | canberrabirds | |
FW: [canberrabirds] Red-browed finches
| | |
| --- | --- |
| To: | <> |
| Subject: | FW: [canberrabirds] Red-browed finches |
| From: | "Geoffrey Dabb" <> |
| Date: | Fri, 31 May 2013 10:01:06 +1000 |
Juvenile Red-browed Finches have black on the top of the bill. They also have black on the rest of the bill.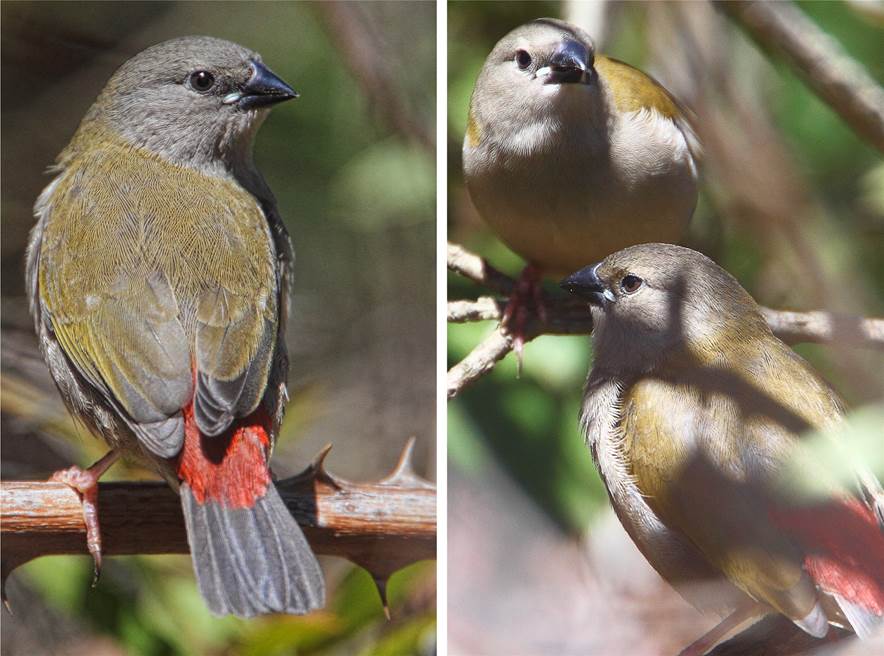 From: Denis Wilson [
Sent: Thursday, 30 May 2013 3:44 PM
To: Philip Veerman
Cc: Margaret Leggoe;
Subject: Re: [canberrabirds] Red-browed finches
Hi Margaret.

Your first RBF appears to have white on top of the beak, but almost certainly that is merely a reflection (Philip's "trick of the light"). But it certainly appears to lack the black patch on top of the beak (it does show black under the beak).
The second specimen does appear "normal".


Denis Wilson
If you're not pissed off with the World, you're just not paying attention.
(Kasey Chambers)

"The Nature of Robertson"
www.peonyden.blogspot.com.au
On Thu, May 30, 2013 at 2:07 PM, Philip Veerman <m("pcug.org.au","pveerman");" target="_blank">> wrote:
After having attempted to view the first photo and having to sign on to Flickr (which I have no wish to do), nothing showed, except photos by other people that I don't know and am not interested in. The second link showed a normal Red-browed Finch. So I can't see what you are referring to. To answer your question. Yes all adult Red-browed Finches have a black stripe down the top of their beak (but no other finch species does, as far as I know). So if there is white on the top of its beak, then if it is not poo (i.e. uric acid) or a trick of light reflection, it is probably a genetic defect.
Admin
The University of NSW School of Computer and Engineering takes no responsibility for the contents of this archive. It is purely a compilation of material sent by many people to the Canberra Ornithologists Group mailing list. It has not been checked for accuracy nor its content verified in any way. If you wish to get material removed from the archive or have other queries about the list contact David McDonald, list manager, phone (02) 6231 8904 or email . If you can not contact David McDonald e-mail Andrew Taylor at this address: andrewt@cse.unsw.EDU.AU