| | | |
| --- | --- | --- |
| | canberrabirds | |
Speckled Warbler Dependent Young
| | |
| --- | --- |
| To: | "Canberra birds" <> |
| Subject: | Speckled Warbler Dependent Young |
| From: | "wallaces" <> |
| Date: | Fri, 27 Apr 2012 18:18:19 +1000 |
The Speckled Warbler nest at Sheperds Lookout was empty yesterday when I visited and I could not locate the birds. Today Barbara Allan located the birds for me. Assuming the birds were the ones from the nest (highly likely), only one chick fedged. It left the nest some time between Sunday and yesterday. It is already well feathered and able to fly with the parents.
The references I have (I do not have HANZAB) do not provide much information about the juvenile birds so I have attached some pictures (taken from video footage) which show the differences that I could pick up in the field apart from some patches of down still on the back. The pictures show:
1. pale (white) gape
2. eyebrow not clearly like male or female - in differnt lights it showed some black and some rufous but while obvious generally looked a grey brown colour
3. crown greyer than the adult with some streaks which were smaller and more regular than the adults.
Others may have better information on characteristics which are visible in the field.
The last photo shows the juvenile bird asleep on the leaf litter (in the middle of the photo).
Steve
Attachment: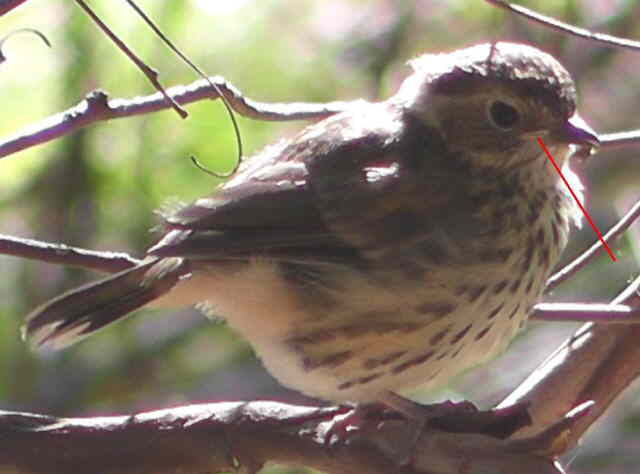 Attachment: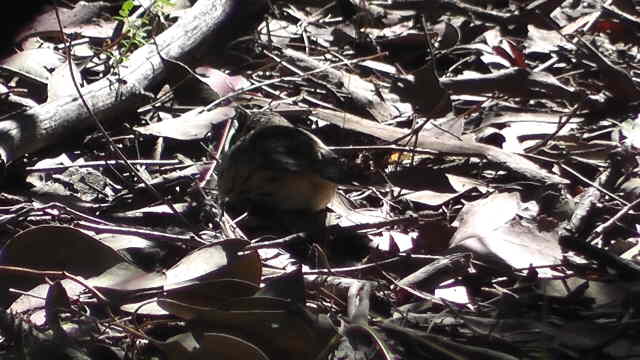 Attachment:
*******************************************************************************************************
This is the email announcement and discussion list of the Canberra 
Ornithologists Group.
Please ensure that emails posted to the list are less than 100 kb in size.
When subscribing or unsubscribing, please insert the word 'Subscribe' or 
'Unsubscribe', as applicable, in the email's subject line.
List-Post: <>
List-Help: <>
List-Unsubscribe: <>
List-Subscribe: <>
List archive: <http://bioacoustics.cse.unsw.edu.au/archives/html/canberrabirds>
List manager: David McDonald, email 
<>
<Prev in Thread]
Current Thread
[Next in Thread>

Speckled Warbler Dependent Young, wallaces <=
Admin
The University of NSW School of Computer and Engineering takes no responsibility for the contents of this archive. It is purely a compilation of material sent by many people to the Canberra Ornithologists Group mailing list. It has not been checked for accuracy nor its content verified in any way. If you wish to get material removed from the archive or have other queries about the list contact David McDonald, list manager, phone (02) 6231 8904 or email . If you can not contact David McDonald e-mail Andrew Taylor at this address: andrewt@cse.unsw.EDU.AU