| | | |
| --- | --- | --- |
| | canberrabirds | |
Canberra Birds for beginners (2)
| | |
| --- | --- |
| To: | "'Geoffrey Dabb'" <> |
| Subject: | Canberra Birds for beginners (2) |
| From: | "Margaret Leggoe" <> |
| Date: | Sun, 15 Apr 2012 10:39:07 +1000 |
Yep, could have been my street, but for the missing mynas and sparrows. How about doing one on introduced species, sine a real beginner may not know that his/her eyes are forbidden to look upon these species.
ml
From: Geoffrey Dabb [
Sent: Sunday, 15 April 2012 8:29 AM
To:
Subject: [canberrabirds] Canberra Birds for beginners (2)
The 10 most common birds of Canberra gardens, over a recent year.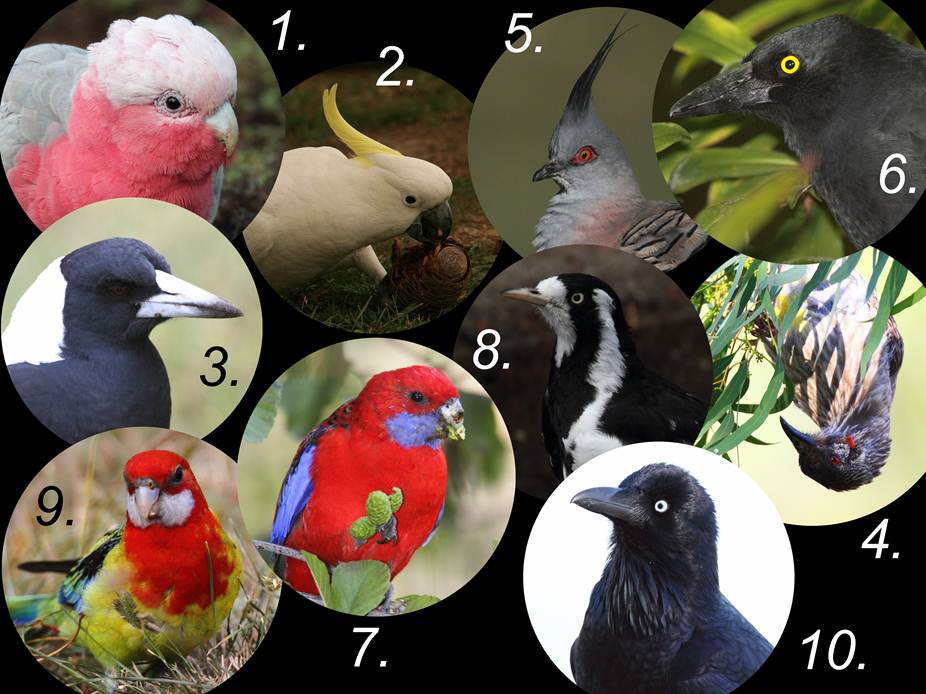 Admin
The University of NSW School of Computer and Engineering takes no responsibility for the contents of this archive. It is purely a compilation of material sent by many people to the Canberra Ornithologists Group mailing list. It has not been checked for accuracy nor its content verified in any way. If you wish to get material removed from the archive or have other queries about the list contact David McDonald, list manager, phone (02) 6231 8904 or email . If you can not contact David McDonald e-mail Andrew Taylor at this address: andrewt@cse.unsw.EDU.AU