| | | |
| --- | --- | --- |
| | canberrabirds | |
Dollarbird (juv.) at wetlands
| | |
| --- | --- |
| To: | <> |
| Subject: | Dollarbird (juv.) at wetlands |
| From: | "Geoffrey Dabb" <> |
| Date: | Thu, 16 Feb 2012 11:56:00 +1100 |
Just a matter of keeping an eye out, Erika. One turns up at the wetlands now and then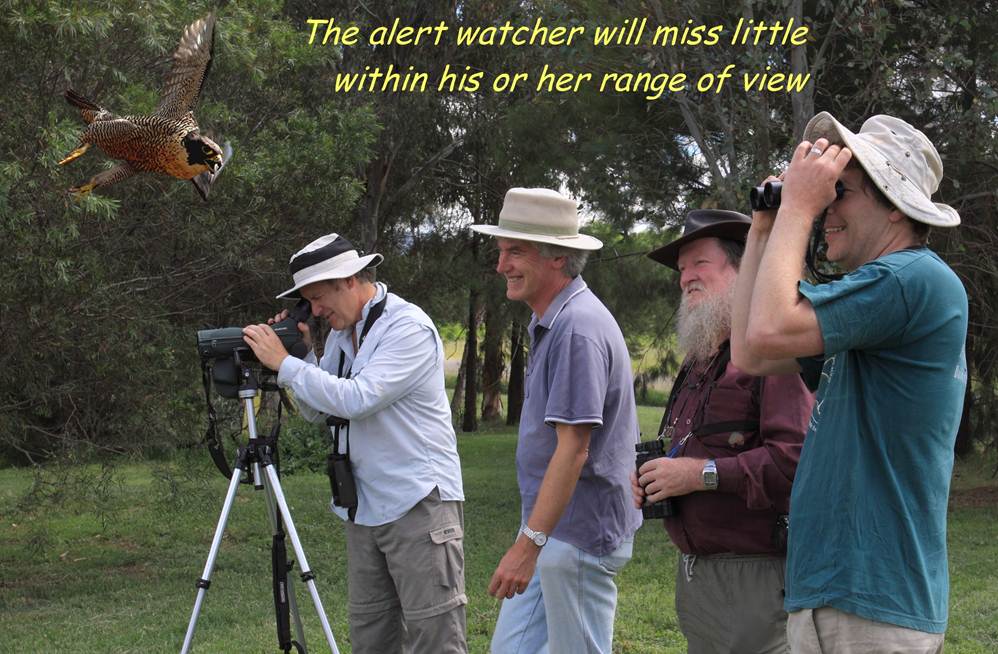 From: Erika Roper [
Sent: Thursday, 16 February 2012 11:19 AM
To: Geoffrey Dabb
Cc: canberrabirds
Subject: Re: [canberrabirds] Dollarbird (juv.) at wetlands
Interesting. I am sad to say, that I have never actually seen a Peregrine in the wild, even when I lived in the states for 18 months. Not for lack of trying mind you.
On 16 February 2012 09:45, Geoffrey Dabb <> wrote:
Yes Philip - I found this old snap which tends to illustrate your point. Perhaps the large feet do not comfortably grip a wire. Of course you could google one of those huge collections of species shots and work through it. Bear in mind other sub-species have smaller feet.
Yes you are certainly right about both those ids. The obvious Hobby features are the mottled orangeish breast and the half collar going up over the side of the head. Also a typical pose. The shape is distinctive for the species too. I think if the photo was just a black outline and the feet were still visible, it could still be picked as a Hobby. For what it is worth, I have never seen a Peregrine Falcon perched on a power wire. Sure the chances are that someone might be able to come up with a photo but it sure isn't typical.
The file size of these photos is fine (not big at all).
-----Original Message-----
From: Erika Roper m("gmail.com]","erikamaybe");" target="_blank">[
Sent: Wednesday, 15 February 2012 8:07 PM
To: canberrabirds
Subject: [canberrabirds] Dollarbird (juv.) at wetlands
Hello,
So I finally made it out to the wetlands for the first time. It's not quite what I was imagining but it was still good. Highlights for me included a juv. Dollarbird, a family of 12 Choughs feeding a single immature bird, and a female Rufous Whistler feeding a fledgling. I also spotted what I think is a Hobby. It was pretty far away though. Any suggestions? (see photo)
Also, I apologise for my file sizes. I am having some difficulty getting them to be appropriate sizes, while still maintaining quality (which can be hard for highly cropped photos such as these)/
Admin
The University of NSW School of Computer and Engineering takes no responsibility for the contents of this archive. It is purely a compilation of material sent by many people to the Canberra Ornithologists Group mailing list. It has not been checked for accuracy nor its content verified in any way. If you wish to get material removed from the archive or have other queries about the list contact David McDonald, list manager, phone (02) 6231 8904 or email . If you can not contact David McDonald e-mail Andrew Taylor at this address: andrewt@cse.unsw.EDU.AU