| | | |
| --- | --- | --- |
| | canberrabirds | |
Narrabundah Lane
| | |
| --- | --- |
| To: | "'Lindell'" <>, "'Canberra Birds'" <> |
| Subject: | Narrabundah Lane |
| From: | "Margaret Leggoe" <> |
| Date: | Mon, 7 Feb 2011 09:16:45 +1100 |
I believe this bird, now a hobby, is still there. This morning a bird that sounded a bit like a goshawk, only different, was calling in the trees around the dam across the road from Callum Brae's entrance. Come to think of it, I have heard it before in that area during this summer.
Margaret Leggoe
From: Lindell [
Sent: Sunday, 6 February 2011 8:31 PM
To: Canberra Birds
Subject: [canberrabirds] Narrabundah Lane
Is this a young Peregrine Falcon? It was spotted down the Lane a bit from the Callum Brae NR entrance.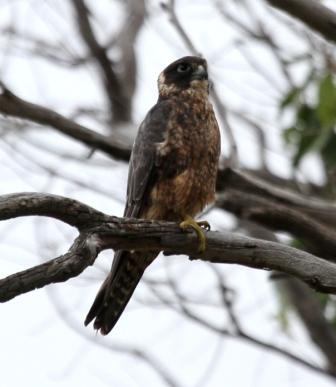 Admin
The University of NSW School of Computer and Engineering takes no responsibility for the contents of this archive. It is purely a compilation of material sent by many people to the Canberra Ornithologists Group mailing list. It has not been checked for accuracy nor its content verified in any way. If you wish to get material removed from the archive or have other queries about the list contact David McDonald, list manager, phone (02) 6231 8904 or email . If you can not contact David McDonald e-mail Andrew Taylor at this address: andrewt@cse.unsw.EDU.AU