| | | |
| --- | --- | --- |
| | canberrabirds | |
brown treecreepers
| | |
| --- | --- |
| To: | "'canberrabirds'" <> |
| Subject: | brown treecreepers |
| From: | "Julian Robinson" <> |
| Date: | Thu, 30 Dec 2010 08:43:20 +1100 |
I often join Sue Lashko for her survey of Newline, during the last two visits the Brown Treecreepers were nesting both times (carrying food to hollow), so at three months apart that would be two separate reproduction attempts. Both were in the same hollow which was a vertical spout, so you would think not the best nest location given the rain.
Julian
From: Mark Clayton [
Sent: 29 December 2010 15:14
To: 'Williams, Roger'; 'canberrabirds'
Subject: RE: [canberrabirds] brown treecreepers
G'day Roger,
Two excellent photos, especially the one with the two birds. Going by the bill colour they are both juveniles which is exceptionally good news. The population in Newline appeared to be slowly disappearing and many people were not too sure what sex the couple (??) of birds left there were. Maybe it is my imagination but the single bird appears to have a rusty tinge on the lower throat/upper breast which would signify a female, males have a small black patch. The bill shows it is an adult. Let's hope the other small populations north-side manage to produce a few offspring this year.
Cheers and Happy New Year to all,
Mark
From: Williams, Roger [
Sent: Wednesday, 29 December 2010 2:34 PM
To: canberrabirds
Subject: [canberrabirds] brown treecreepers
Today at newline a family of 3 brown treecreepers first time I've seen them in the ACT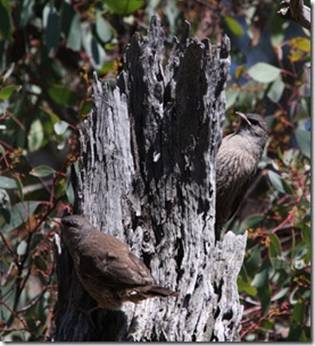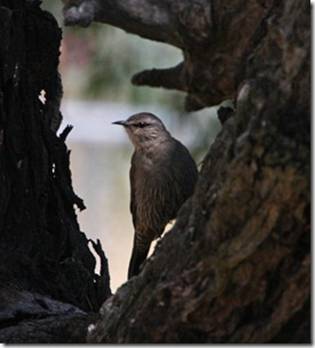 Admin
The University of NSW School of Computer and Engineering takes no responsibility for the contents of this archive. It is purely a compilation of material sent by many people to the Canberra Ornithologists Group mailing list. It has not been checked for accuracy nor its content verified in any way. If you wish to get material removed from the archive or have other queries about the list contact David McDonald, list manager, phone (02) 6231 8904 or email . If you can not contact David McDonald e-mail Andrew Taylor at this address: andrewt@cse.unsw.EDU.AU