| | | |
| --- | --- | --- |
| | canberrabirds | |
Chestnut ID opinions please - Sparrowhawk
| | |
| --- | --- |
| To: | "canberrabirds chatline" <> |
| Subject: | Chestnut ID opinions please - Sparrowhawk |
| From: | "Julian Robinson" <> |
| Date: | Thu, 30 Dec 2010 08:21:12 +1100 |
I know this has been discussed many times, but I would value opinions on this Sparrow / Gos hawk. I have no further info to add to the photo except the immediately preceding circumstances – in a small clearing amongst pines near Gundaroo this bird rocketed in carrying prey. It was intercepted by another just out of view in pine trees, some carry on then the other bird disappeared and this one reappeared on the branch without the prey. I assume this parent was feeding its young. The photo is more informative than the view I could make out with bins in the gloomy recesses of the pines.
I'm calling it a Sparrowhawk because of the non-heavy brow ridge and somewhat staring look. Supporting this could be the centre toe which seems very long given that you can see the front of the centre toe but not even the nail of the other toes, and also it seems a long way from where the extended left leg would meet the branch. Counting against sparrowhawk according to my reading is the shape of the tail feathers, but I've never really worked out what you are looking for in closed position, and some say that this is an unreliable diagnostic clue.
I would appreciate any educational info and any decisive ID.
Julian
Attachment: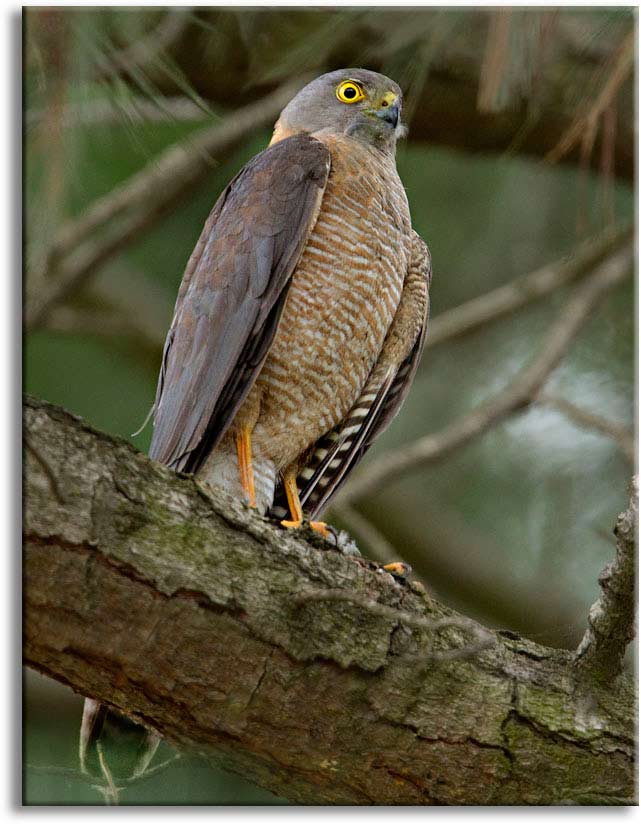 *******************************************************************************************************
This is the email announcement and discussion list of the Canberra 
Ornithologists Group.
Please ensure that emails posted to the list are less than 100 kb in size.
When subscribing or unsubscribing, please insert the word 'Subscribe' or 
'Unsubscribe', as applicable, in the email's subject line.
List-Post: <>
List-Help: <>
List-Unsubscribe: <>
List-Subscribe: <>
List archive: <http://bioacoustics.cse.unsw.edu.au/archives/html/canberrabirds>
List manager: David McDonald, email 
<>
<Prev in Thread]
Current Thread
[Next in Thread>

Chestnut ID opinions please - Sparrowhawk, Julian Robinson <=
Admin
The University of NSW School of Computer and Engineering takes no responsibility for the contents of this archive. It is purely a compilation of material sent by many people to the Canberra Ornithologists Group mailing list. It has not been checked for accuracy nor its content verified in any way. If you wish to get material removed from the archive or have other queries about the list contact David McDonald, list manager, phone (02) 6231 8904 or email . If you can not contact David McDonald e-mail Andrew Taylor at this address: andrewt@cse.unsw.EDU.AU