| | | |
| --- | --- | --- |
| | canberrabirds | |
Help with ID please
| | |
| --- | --- |
| To: | Canberra Birds <> |
| Subject: | Help with ID please |
| From: | Lindell <> |
| Date: | Sun, 19 Dec 2010 17:49:02 +1100 |
I was down at Norgrove Park between showers later this afternoon and heard the sound of the Little Grassbird calling very loudly from the middle of the reed-bed ponds.
I saw this one and could see it's throat moving with the sound but I didn't have my bins with me - only the camera.
Everything about it points to a LGB except for the lack of dark striations on the underparts.
Any comments would be greatly appreciated.
Thanks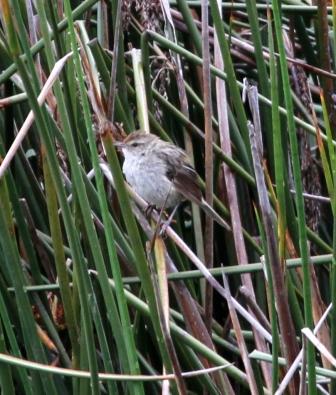 Lindell

--
Griffith
ACT

Admin
The University of NSW School of Computer and Engineering takes no responsibility for the contents of this archive. It is purely a compilation of material sent by many people to the Canberra Ornithologists Group mailing list. It has not been checked for accuracy nor its content verified in any way. If you wish to get material removed from the archive or have other queries about the list contact David McDonald, list manager, phone (02) 6231 8904 or email . If you can not contact David McDonald e-mail Andrew Taylor at this address: andrewt@cse.unsw.EDU.AU