Roger Curnow and I have been trying to work out the identity of an unusual raptor. Roger came across this a few days ago in his west/west Macgregor haunt and sent me several pics taken over 3 days (I think). We tried to find it yesterday, but it didn't appear. Roger will add his own comments, but I would present the puzzle as follows. It should be assumed that all pics of bird X are of the same bird.
Consider this one, bird X being on the right.

It looks for all the world like a Black Kite. For comparison I have included an adult Black Kite (from elsewhere) on the left. Lightening Roger's original does bring up apparent juvenile plumage in bird X.
Now consider these pictures of bird X:
This is clearly a juvenile, and might look a bit more like a Whistling Kite - EXCEPT for the squarish – perhaps more forked – tail. The tail is possibly in moult, but one would not expect any moult pattern to convert the rounded tail of a WK into that configuration. Query whether the time of year and pale tips argue against the moult theory. Could it be that the tail is still growing out for the first time?
Below is a juvenile Whistling Kite (photographed elsewhere), presumably near the end of its first year. The plumage pattern is similar to bird X. However, the rounded tail is quite obvious. Perhaps on this bird the tail is fully grown out. Could it be a month or so older than X?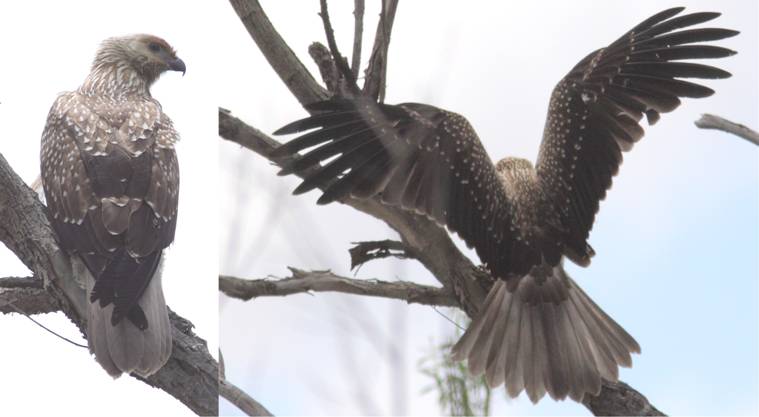 Perhaps the most likely possibility is a very young Whistling Kite. However no other Whistling Kites have been seen in the vicinity. Moreover the impression conveyed by the first picture above is of a fully plumaged bird.