| | | |
| --- | --- | --- |
| | canberrabirds | |
Oriole Mt Ainslie
| | |
| --- | --- |
| To: | Canberrabirds <> |
| Subject: | Oriole Mt Ainslie |
| From: | Robin Hide <> |
| Date: | Mon, 06 Sep 2010 15:05:00 +1000 |
On the west side of Mt Ainslie 50 m or so above the storm-drain (a running river the last few days) this morning an Olive-backed Oriole was in full voice (and good view)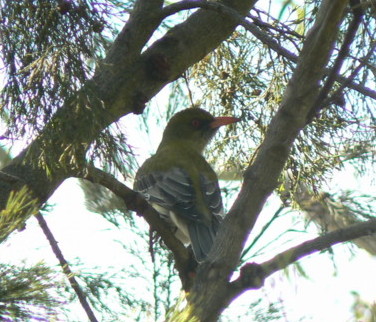 Possibly the one noted by others (Ramsay/Dabb) in the Ainslie/Hackett area during the winter, but the first I have seen/heard this spring.

Single oldish Swamp Wallaby in usual area looking wellfed but with one gummy eye (its right one).

Robin Hide


On 26/07/2010 5:20 PM, Bruce Ramsay wrote:
 and for the Winterbirds Project, an Olive-backed Oriole (heard and also seen briefly).



<Prev in Thread]
Current Thread
[Next in Thread>

Oriole Mt Ainslie, Robin Hide <=
Admin
The University of NSW School of Computer and Engineering takes no responsibility for the contents of this archive. It is purely a compilation of material sent by many people to the Canberra Ornithologists Group mailing list. It has not been checked for accuracy nor its content verified in any way. If you wish to get material removed from the archive or have other queries about the list contact David McDonald, list manager, phone (02) 6231 8904 or email . If you can not contact David McDonald e-mail Andrew Taylor at this address: andrewt@cse.unsw.EDU.AU