| | | |
| --- | --- | --- |
| | canberrabirds | |
Kambah Pool
| | |
| --- | --- |
| To: | Canberra Birds <> |
| Subject: | Kambah Pool |
| From: | John Leonard <> |
| Date: | Sun, 18 Apr 2010 16:50:59 +1000 |
Quite a few birds around at Kambah Pool this pm, but no obvious
migratory movement.

What are these on a young Acacia rubra? There were ants running up and
down the stem, are they guarding them in some symbiotic way, or are
they nothing to do with them?

-- 
John Leonard
Canberra
Australia
www.jleonard.net

I want to be with the 99,999 other things.

Attachment: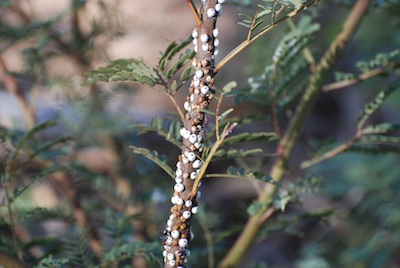 *******************************************************************************************************
This is the email announcement and discussion list of the Canberra 
Ornithologists Group.
Please ensure that emails posted to the list are less than 100 kb in size.
List-Post: <>
List-Help: <>
List-Unsubscribe: <>
List-Subscribe: <>
List archive: <http://bioacoustics.cse.unsw.edu.au/archives/html/canberrabirds>
List manager: David McDonald, email 
<>
Admin
The University of NSW School of Computer and Engineering takes no responsibility for the contents of this archive. It is purely a compilation of material sent by many people to the Canberra Ornithologists Group mailing list. It has not been checked for accuracy nor its content verified in any way. If you wish to get material removed from the archive or have other queries about the list contact David McDonald, list manager, phone (02) 6231 8904 or email . If you can not contact David McDonald e-mail Andrew Taylor at this address: andrewt@cse.unsw.EDU.AU