Was it a year ago I reported on the seminar we were all invited to at NLA, at which one presentation was on spread of Galahs, including their relatively recent arrival in Canberra. This should now be a chapter in the much-touted 'Boom and Bust' book, although I do not yet have a copy myself.
It would follow that galah-damage has increased overall, and my impression is that it has again increased recently. My theory is that it is done by mated birds territorially as part of pair-bonding and not by the huge flocks of visiting ground-feeders, which I believe are young birds (see discussion of eye colours from last winter).
Incidentally my local pair offer a good example of the sex differences in the eye in adult birds, F on left: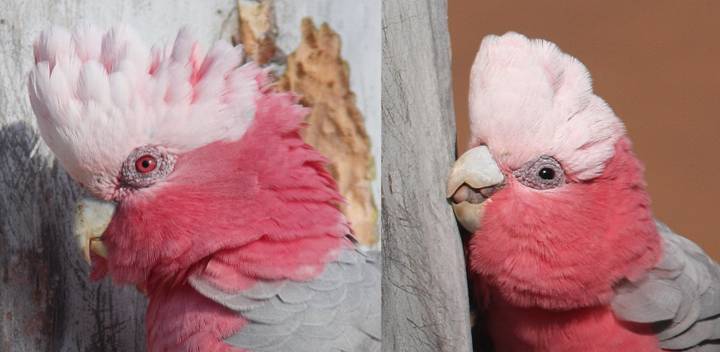 From: Peter Ormay [
Sent: Friday, 10 July 2009 9:24 PM
To: Denis Wilson;
Subject: Re: [canberrabirds] Galahs
Hi Denis, Julian, Geoffrey et al,
I remember seeing a Galah in the fork of a Red Spotted gum and chewing the bark in the park one door away from my place when I was building my house around 1970. The exposed wood was fresh and there was no hole there. I wondered if a hole might develop there and looked at it from time to time over the next few years. The Galah(s) kept on chewing the regenerating edge of the bark within reach of the fork. Today there is a hole in that fork and I have seen a Galah go in. I have no idea if it was the same Galah and doubt whether it/they did it with the aim of creating a hollow. More likely they do it out of boredom while resting or to sharpen/wear their beak and in some cases a hole will develop there after a few decades if the bark is prevented from growing over the scar.
I suspect that Galah numbers have increased in the ACT area since settlement if there were any here to start with and they do a lot more damage to trees than they used to. Have they? Does anyone know? I remember seeing the first Galahs in Tidbinbilla Nature Reserve after I worked there for about 5 years ca 1981 and think they had just arrived there. i e there were none in the Tidbinbilla area before.
----- Original Message -----

Sent: Friday, July 10, 2009 3:29 PM

Subject: Re: [canberrabirds] Galahs

Hi Geoffrey, Julian and others.

I have heard or read that Galah chewing of bark actually helps fungi and insects to invade the wood of Eucalypts, thus leading, in the long term, to the creation of new hollows.

I cannot provide scientific evidence of this, but it does appear to make sense to me.

I cannot credit the Galahs (and other Cockatoos) with the foresight to plan for that outcome, but on an instinctive level, such behaviour could well advantage those species (and fellow hollow-dwelling creatures).