| | | |
| --- | --- | --- |
| | canberrabirds | |
Duck ID
| | |
| --- | --- |
| To: | <> |
| Subject: | Duck ID |
| From: | "Geoffrey Dabb" <> |
| Date: | Fri, 29 May 2009 09:45:03 +1000 |
Some time ago I sent to the chatline this assortment from Gungahlin Pond - all snapped in the one group. LBG has similar, although not quite such a range. The centre left bird is possibly the chap in question.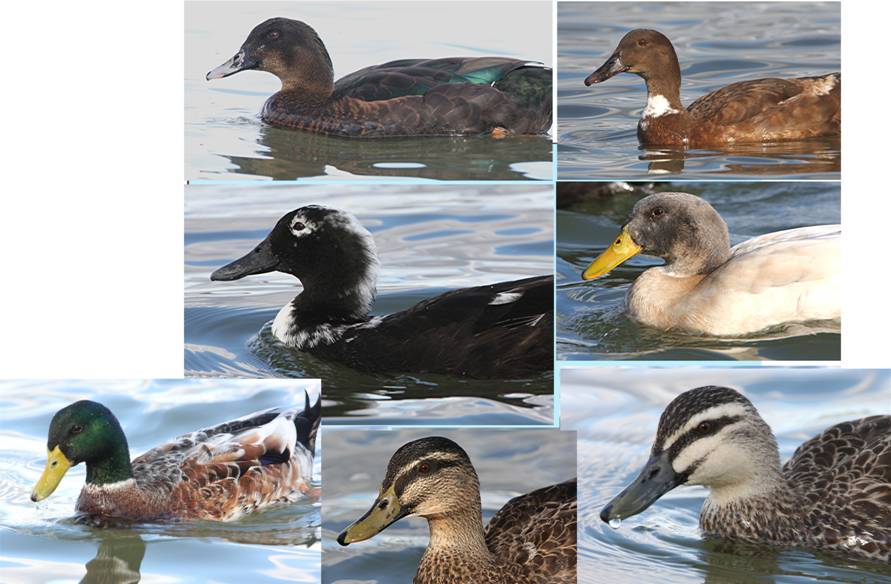 From: Anthony Doyle [
Sent: Thursday, 28 May 2009 2:42 PM
To:
Subject: [canberrabirds] Duck ID

Seen yesterday afternoon at the northern end of Lake Tuggeranong; solitary large duck - considerably bigger than Wood or Pacific Black - mostly black with conspicuous white breast. We have also seen it on occasion at the Tuggeranong Park 'beach' with other fowl - and no it isn't a swan.

Any ideas?

AD
---
Check out the new Windows Live Messenger Looking for a fresh way to share your photos?
Admin
The University of NSW School of Computer and Engineering takes no responsibility for the contents of this archive. It is purely a compilation of material sent by many people to the Canberra Ornithologists Group mailing list. It has not been checked for accuracy nor its content verified in any way. If you wish to get material removed from the archive or have other queries about the list contact David McDonald, list manager, phone (02) 6231 8904 or email . If you can not contact David McDonald e-mail Andrew Taylor at this address: andrewt@cse.unsw.EDU.AU