Hi everyone
Geoff's pastry clue evoked fond memories of childhood. Loved Napoleons!
Wirebird similar to the Kittlitz's Plover.
The Wirebird Charadrius sanctae helenae is the last surviving endemic land bird on St Helena. The wirebird is closely related to the Kittlitz's Sand Plover C. pecarius of Africa although it is larger and has a different marking. The bill of the wirebird is also longer.
http://home.swipnet.se/~w-17282/endemic/wirebird.html
Cheers
Paul
Paul Fennell
BCG2 Editor
6254 1804
0407105460
From: Damien Farine [
Sent: Saturday, 16 May 2009 10:11 AM
To: ;
Subject: RE: [canberrabirds] WOTSIT
I would venture a guess at being a Kittlitz's Plover.. coming out of breeding plumage? Habitat is right, just missing the dark patch in the wing in the photograph.
Damien
---
From:
To: ;
Date: Fri, 15 May 2009 19:38:07 +1000
Subject: WOTSIT
Well, OK Steve. Think of those cakes of one's childhood (1950ish), not Lamos, the ones with a custardy filling sandwiched between flaky pastry with a smear of jam on each side. Haven't seen them recently but they were popular in their day. Also, the bird has an alternative vernacular name consisting of one word.
From: Steve Holliday [
Sent: Friday, 15 May 2009 6:08 PM
To:
Subject: RE: [canberrabirds] WOTSIT
Hmm, how about a clue? Country? Continent?
From: Geoffrey Dabb [
Sent: Friday, 15 May 2009 5:59 PM
To:
Subject: [canberrabirds] WOTSIT
A friend snapped this to test me (I failed). It is very unlikely you would see this bird in Canberra. In fact a Grey-headed Lapwing is much more likely. Any bids?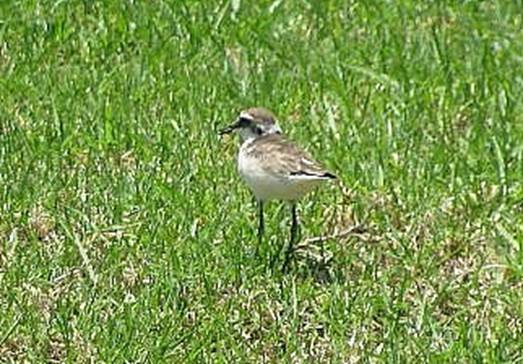 ---
Let ninemsn property help Looking to move somewhere new this winter?