| | | |
| --- | --- | --- |
| | canberrabirds | |
Raptor id please
| | |
| --- | --- |
| To: | |
| Subject: | Raptor id please |
| From: | Bron King <> |
| Date: | Fri, 12 Sep 2008 08:07:06 +1000 |
Earlier this week our son Sam walked from Shepherd's Lookout to Uriarra Crossing
adding 3 new species to his young but growing life list.

About 1km from the lookout, he interrupted 2 raptors apparently having an altercation(??)
It was over the lip of a hill on the ground so the photos leave something to be desired.
Here's a close crop.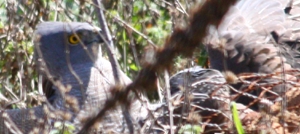 If those with an interest in raptors could please take a moment to look here http://picasaweb.google.com/bronkin/RaptorInteraction#
at the rest of his pictures and help with id & behaviour. He suspects (eyecolour)
Brown Goshawk - we have regular visits in and over our garden by Collared Sparrowhawks and these birds were considerably bigger.
One seems to be an adult but the other has a browner more mottled look.
Thanks .

Bron King (for Sam)

Admin
The University of NSW School of Computer and Engineering takes no responsibility for the contents of this archive. It is purely a compilation of material sent by many people to the Canberra Ornithologists Group mailing list. It has not been checked for accuracy nor its content verified in any way. If you wish to get material removed from the archive or have other queries about the list contact David McDonald, list manager, phone (02) 6231 8904 or email . If you can not contact David McDonald e-mail Andrew Taylor at this address: andrewt@cse.unsw.EDU.AU