| | | |
| --- | --- | --- |
| | canberrabirds | |
FW: [canberrabirds] BBR/Spotless
| | |
| --- | --- |
| To: | <> |
| Subject: | FW: [canberrabirds] BBR/Spotless |
| From: | "Geoffrey Dabb" <> |
| Date: | Thu, 28 Aug 2008 13:37:50 +1000 |
A pair of Spotless were there together this morning.  Not easy to snap together.  Martyn tells me he counted 3 of the little chaps the other day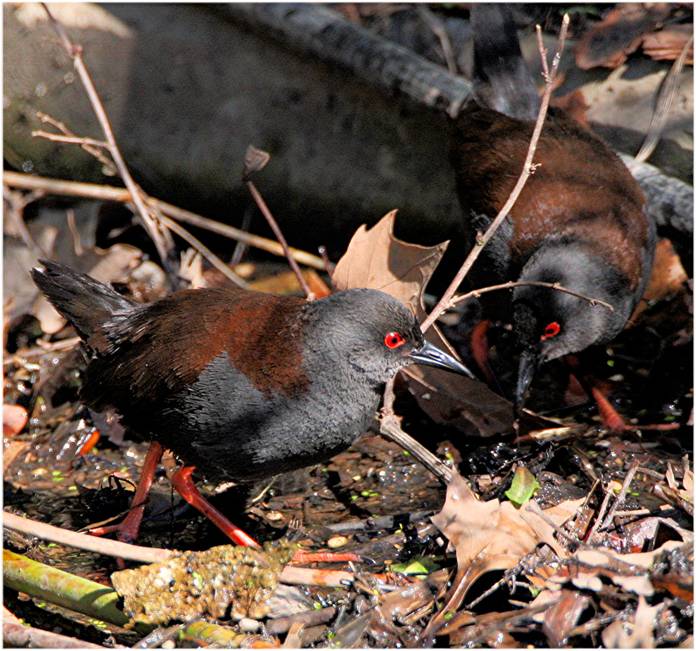 From: Geoffrey Dabb [
Sent: Wednesday, 27 August 2008 6:32 PM
To:
Subject: FW: [canberrabirds] BBR
With all that planted cover and, er, nutrient-rich stormwater inflow, there could be a permanent population of rails there. This is the BBR from this afternoon. As I recall, a few years ago there was a plurality at that unpromising pond near the O'Connor shops, and I think Lindsay H had one in his backyard at leafy Jerrabomberra Acres. The Spotless seems to have displaced the Spotted as the 'common' crake.
From: John Giacon [
Sent: Wednesday, 27 August 2008 1:40 PM
To:
Subject: [canberrabirds] spotless crake +
at the corner of Dawes and Printers, Kingston foreshore, this morning at 11.30 , spotless crake and buff banded rail; seen when looking west from the first bridge; crake on pile of leaves at water's edge; rail wandering around;
---
Win a MacBook Air or iPod touch with Yahoo!7- Find out more.
<Prev in Thread]
Current Thread
[Next in Thread>

FW: [canberrabirds] BBR/Spotless, Geoffrey Dabb <=
Admin
The University of NSW School of Computer and Engineering takes no responsibility for the contents of this archive. It is purely a compilation of material sent by many people to the Canberra Ornithologists Group mailing list. It has not been checked for accuracy nor its content verified in any way. If you wish to get material removed from the archive or have other queries about the list contact David McDonald, list manager, phone (02) 6231 8904 or email . If you can not contact David McDonald e-mail Andrew Taylor at this address: andrewt@cse.unsw.EDU.AU