| | | |
| --- | --- | --- |
| | canberrabirds | |
question re pardalote behaviour
| | |
| --- | --- |
| To: | "COG" <> |
| Subject: | question re pardalote behaviour |
| From: | "Charmian Lawson" <> |
| Date: | Thu, 27 Mar 2008 14:25:13 +1100 |
Hi
Since at least 8 March we have had visits, sometimes several times a day on a daily basis, sometimes less frequently, from this delightful little spotted pardalote. It comes to an orchid hanging in a metal basket outside our lounge room window, and fossicks round in the plant base. Quite often it just stares at the window, and sometimes it flys at it, or seems to be harvesting insects or something near the window. It isn't attacking the window as our demented magpie lark does. It is very tame, and allows me to stand a couple of feet away from it for minutes at a time without seeming the slightest bit concerned by my presence.
Tony and I wondered if it were nesting because it seemed to be picking up what could be nesting material in its beak. I haven't seen where it flies off to, and on a couple of occasions there has been another pardalote in the vicinity.
Could it have been spurred into nesting activity by the burst of summer we had a couple of weeks ago? or what else might it be doing?
Thanks
Charmian Lawson
Attachment: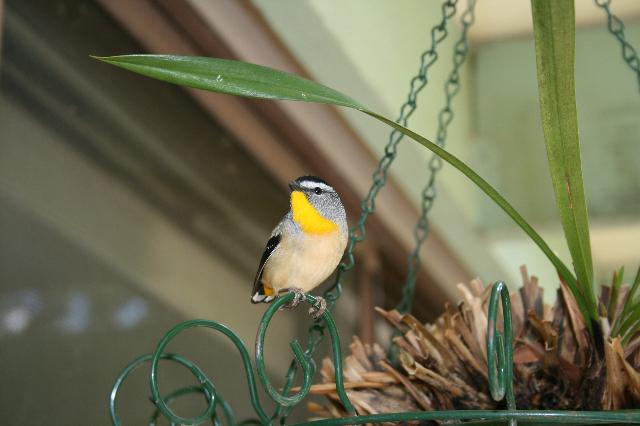 Attachment: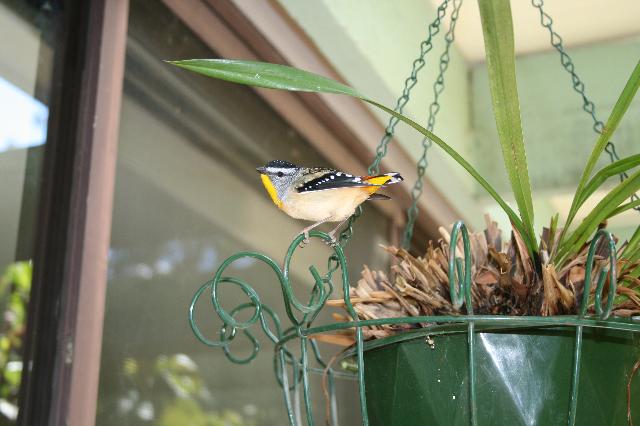 *******************************************************************************************************
This is the email announcement and discussion list of the Canberra 
Ornithologists Group.
List-Post: <>
List-Help: <>
List-Unsubscribe: <>
List-Subscribe: <>
List archive: <http://bioacoustics.cse.unsw.edu.au/archives/html/canberrabirds>
List manager: David McDonald, email 
<>
Admin
The University of NSW School of Computer and Engineering takes no responsibility for the contents of this archive. It is purely a compilation of material sent by many people to the Canberra Ornithologists Group mailing list. It has not been checked for accuracy nor its content verified in any way. If you wish to get material removed from the archive or have other queries about the list contact David McDonald, list manager, phone (02) 6231 8904 or email . If you can not contact David McDonald e-mail Andrew Taylor at this address: andrewt@cse.unsw.EDU.AU