What a large genus – containing 75 species according to the list in Gill & Wright! According to the 'Directory', most of the Australian ones are a single species: 'Silvereyes' Zosterops lateralis (9 subspecies). Around Canberra at least 2 subspecies occur, one that nests locally but has a range from coastal Victoria to Queensland, although whether any individuals range between those extremes I don't know. They certainly come and go around here. The other one breeds in Tasmania, but migrates as far north as Rockhampton. That second one, Z. l. lateralis, is distinguished by 'deep russet-cinnamon over flanks'. Around Canberra you sometimes see both subspecies moving through together, and you might wonder how members of a melee manage to adhere to their respective directions.
In the northern hemisphere, even for developing countries, migration routes and patterns seem to be much better known than they are in Australia. The Norman Arlott 'Palearctic' book mentioned previously gives simplified little range maps for most species covered. Areas where species are resident are violet, winter range is blue, and summer range is nankeen (that favourite colour of Australian birdwatchers) – or deep-russet cinnamon, if you prefer. Note that the transit route for Z erythropleurus is not shown, but would run through parts of the ranges of the other 2 east-Asian white-eyes between Thailand and north-east China. Relevant bits collected here: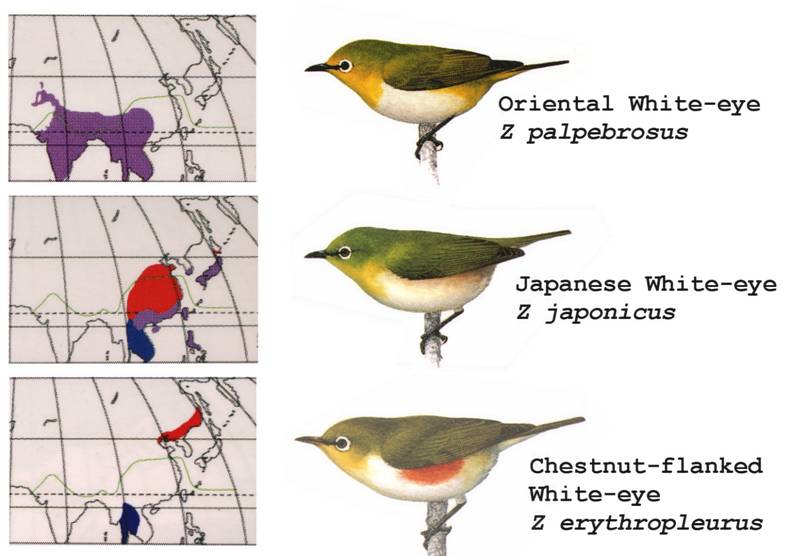 The point that strikes me is that erythropleurus has a pronounced reddish flank, much like our subsp lateralis. Is it a mere coincidence that both populations are through-migrants whose routes transit the range of other Zosterops populations? Most white-eye species have pretty much the same general plumage pattern, greenish above, paler, sometimes yellowish, beneath. Perhaps the advantage of bright flank colours for a migratory species is that the differentiation helps flock formation and cohesion. Anyway it must be of considerable help to tickers visiting China, not that I've ever watched birds there myself. Securing a tick for the CFW should be a modest ambition for all those COG members attending the Beijing Olympics in August, either as competitors or just to cheer on our synchronised swimming team. "Did you see the Great Wall?", people will ask. "Not really", you can say, "but I'm pretty sure I saw a Chestnut-flanked White-eye, although it was a bit smoggy at the time".