| | | |
| --- | --- | --- |
| | canberrabirds | |
FW: [canberrabirds] RE: Glossy blacks at Burrewarra [SEC=UNCLASSIFIED]
| | |
| --- | --- |
| To: | <> |
| Subject: | FW: [canberrabirds] RE: Glossy blacks at Burrewarra [SEC=UNCLASSIFIED] |
| From: | "Geoffrey Dabb" <> |
| Date: | Wed, 6 Feb 2008 11:53:57 +1100 |
As they feed on developed but unripe cones from the current year they probably need to move, according to fruiting, between pockets of the rather sparsely distributed casuarina in the Bungendore/Braidwood area – or even to Canberra. Then in winter they might need to find nest sites (large mature or dead eucs) in proximity to their food, which might influence movement. This pair was snapped near a nest site last August in one of their more regular haunts in the area.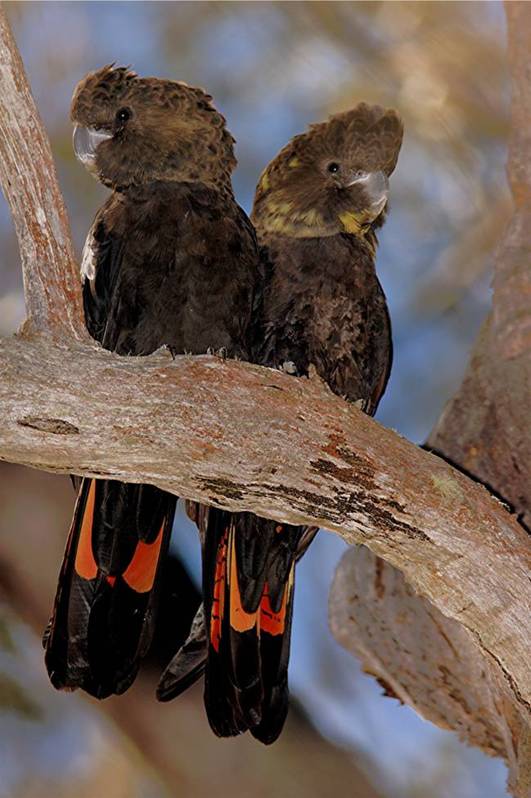 From: McLaughlin, Duncan MR [
Sent: Wednesday, 6 February 2008 8:51 AM
To: Whitworth, Benjamin - BRS; Des Clark-Walker
Cc:
Subject: [canberrabirds] RE: Glossy blacks at Burrewarra [SEC=UNCLASSIFIED]
Wow - thanks Benj.
I think you are right - we just don't know what they are doing.
The old farmers on my road reckon they have been passing through our area forever (well at least since the 1950s). They also reckon they generally pass westward late winter and eastward in Autumn.
But then again, when you quiz them on other bird matters, I am not sure you can consider these farmers that reliable a source. Also considering the rare occurrence of these visits.
cheers
Dunc
<Prev in Thread]
Current Thread
[Next in Thread>

FW: [canberrabirds] RE: Glossy blacks at Burrewarra [SEC=UNCLASSIFIED], Geoffrey Dabb <=
Admin
The University of NSW School of Computer and Engineering takes no responsibility for the contents of this archive. It is purely a compilation of material sent by many people to the Canberra Ornithologists Group mailing list. It has not been checked for accuracy nor its content verified in any way. If you wish to get material removed from the archive or have other queries about the list contact David McDonald, list manager, phone (02) 6231 8904 or email . If you can not contact David McDonald e-mail Andrew Taylor at this address: andrewt@cse.unsw.EDU.AU