The tour de LBG this morning was for me very enjyable in terms of company and weather. The birds were not as evident as they might have been but the cormorants and darters were etremely obliging.
At Aspen Island all 4 locally occuring species of cormorant and a darter were visible in the one clump of trees. I suspect that with a pair of 7x50 binoculars they would have been within one field of view.
Moving on round to Acacia Inlet Park a flock (flotilla?) of at least 30 cormorants, mainly Little Black but with a few Great Blacks and Little Pied, were fishing succesfully just off the reeds. I suspect the population of small fish in that area took a large downturn judging by the nuber we saw swallowed.
Off the bike path just East of Black Mountain Peninsula we had splendid views of nesting little black cormornts and darters. A reduced size photo of the darters (father and family) is attached.
A full report will be in the next Gang-gang and a full species list compiled.
Martin
Attachment: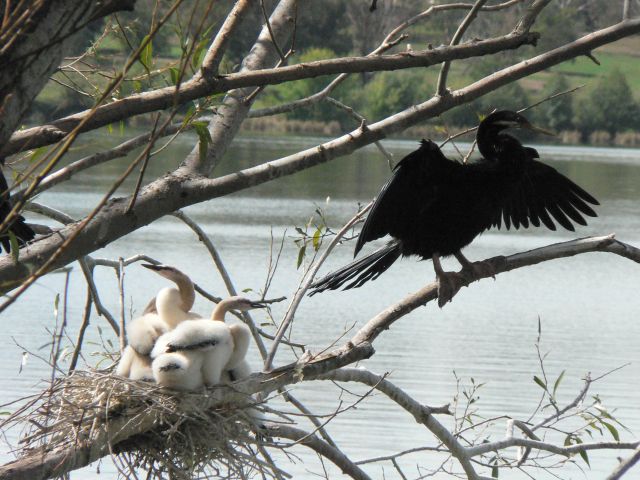 *******************************************************************************************************
This is the email announcement and discussion list of the Canberra 
Ornithologists Group.
List-Post: <>
List-Help: <>
List-Unsubscribe: <>
List-Subscribe: <>
List archive: <http://bioacoustics.cse.unsw.edu.au/archives/html/canberrabirds>
List manager: David McDonald, email 
<>