| | | |
| --- | --- | --- |
| | canberrabirds | |
Needletails at Wamboin
| | |
| --- | --- |
| To: | "Canberra Birds" <> |
| Subject: | Needletails at Wamboin |
| From: | "John Cummings" <> |
| Date: | Fri, 9 Mar 2007 08:42:18 +1100 |
There was a group of around 12 to 15 over Ginninderra Creek yesterday behind the BMX track and they seemed to be working their way down stream as I rode my pushie. When I got home to Latham I stayed out side for a while as I heard some yellow-tailed blacks calling. While there I counted 5 White-throated Needle Tails flying over my place. A new bird for my garden survey!
John Cummings
CWC Coordinator
Sthn NSW & ACT
Mission Australia
Ph 02 6230 0182
Fax 02 6230 0181
Mob 0407 181 002
Enjoy this life
---
From: David Cook [
Sent: Thursday, 8 March 2007 7:27 PM
To: Canberra Birds
Subject: [canberrabirds] Needletails at Wamboin
After reading Martin's email, I raced outside and immediately saw several individual Needletails flying over, then a few more, then a large flock of probably 20-30 birds, and another smaller flock in the distance.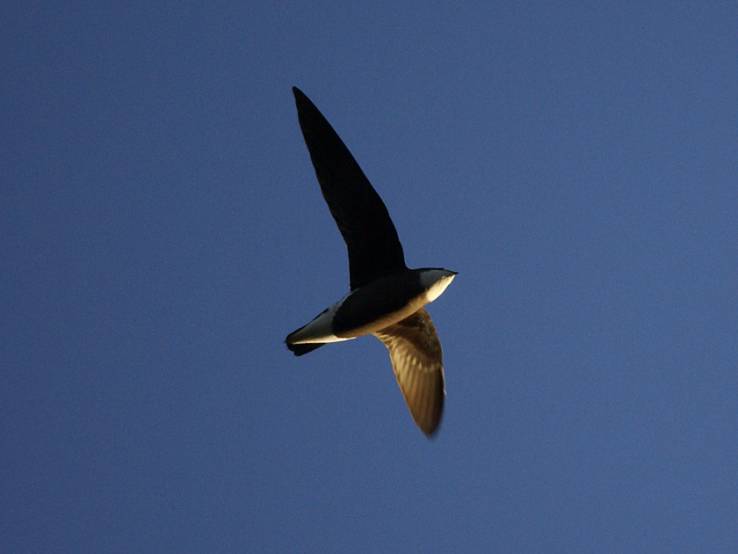 This email, together with any attachments, may contain privileged and confidential information and is intended for the named recipient(s) only. If you are not an intended recipient of this email, please promptly inform the sender and delete this email and any copies from your computer system(s). If this email has been received in error, you cannot rely upon it and any form of disclosure, duplication, modification, distribution and/or publication of this email is prohibited. This email represents the views of the sender and not necessarily the views of Mission Australia.
Admin
The University of NSW School of Computer and Engineering takes no responsibility for the contents of this archive. It is purely a compilation of material sent by many people to the Canberra Ornithologists Group mailing list. It has not been checked for accuracy nor its content verified in any way. If you wish to get material removed from the archive or have other queries about the list contact David McDonald, list manager, phone (02) 6231 8904 or email . If you can not contact David McDonald e-mail Andrew Taylor at this address: andrewt@cse.unsw.EDU.AU