Thanks Geoffery for the information.
The last and only time I have seen these birds in on the airstrip at lady Elliot Island where there was one each time I went and better people than I recognised it.
The next Gang Gang will ask for expressions of interest for a trip to Lady Elliot Island November 2007 for the sea bird breeding season, but there will be no promises on Oriental Plovers.
John Cummings
CWC Coordinator
Sthn NSW & ACT
Mission Australia
Ph 02 6230 0182
Fax 02 6230 0181
Mob 0407 181 002
Enjoy this life
---
From: Geoffrey Dabb [
Sent: Monday, 23 October 2006 12:05 PM
To:
Subject: [canberrabirds] That wotsit
A hearty well done to those responders (6 of 10) who, without more information, recognized an Oriental Plover. There's enough there for a spare Twitchathon team. Key features are the cheek patch and long yellow legs. I thought that was an interesting little test, because it was not an easy one at first. We found 2 last Wednesday on the Oolambeyan trip, south of the park, about 50 km SSE of Hay. They were feeding on 'hoppers in a paddock along with 50+ Banded Lapwing and an A Pratincole. We picked them up when we stopped to watch the lapwings. I wasn't carrying a field guide but Mike Grigg had one, and it got some rapid thumbing, I can tell you.
In the pic I showed I increased the contrast a little to bring up the features, and Sue Lashko pointed out that one would expect that cheek patch to be more of a smudge. This is a more natural shot. I have a poorer shot showing the buff-grey on the chest. I might have some useful video as well - although I was getting blown about a bit by the wind.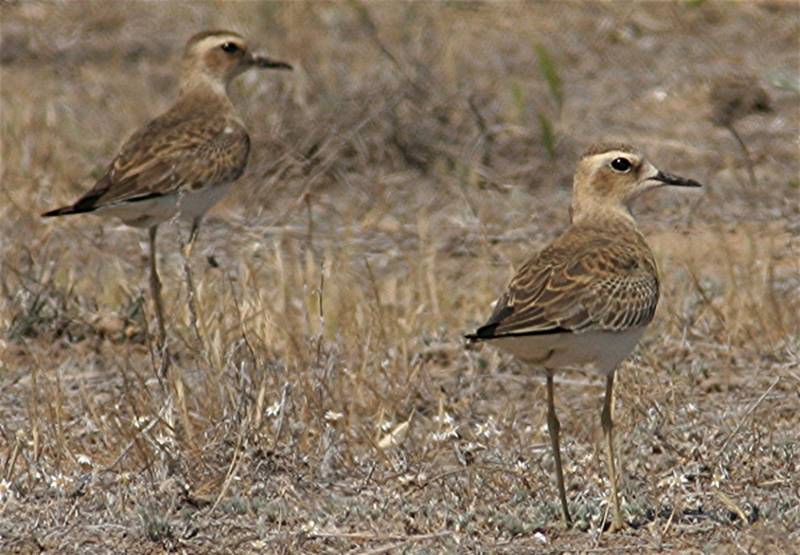 The interesting thing about this ob is that it is outside the Australian range of this trans-equatorial migrant as given in the usual guides. The only record for the 4 years of the latest BA Atlas in NSW, Vic or SA is a single record for what looks to be about Yamba on the coast; indeed, there were no sightings at all anywhere south of 30°S.

This email, together with any attachments, may contain privileged and confidential information and is intended for the named recipient(s) only. If you are not an intended recipient of this email, please promptly inform the sender and delete this email and any copies from your computer system(s). If this email has been received in error, you cannot rely upon it and any form of disclosure, duplication, modification, distribution and/or publication of this email is prohibited. This email represents the views of the sender and not necessarily the views of Mission Australia.