Hi Tobias,
Your second species of gull with its pink legs and yellow bill with a red spot on the lower mandible looks like a Herring Gull (Larus argentatus) but is probably what is now called the Vega Gull (L.vegae). What looks like streaking on the neck of your photographed bird separate this "new" species from the "old" Herring Gull. Recent taxonomic studies on the larger gull species has led to a lot of splitting and creation of new species. I don't know if there has been a recent field guide to the birds of Japan, but if there is, maybe you could check that out. Having said all this someone out there may prove me wrong.
As for the breeding plumage of the Black-headed Gull, the top of the head, from the dark patch shown in your photograph, down to the mid throat area becomes completely blackish. It has been recorded on probably less than 10 times, mostly in the NT and WA.
Cheers,
Mark
---
From: Tobias Hayashi [
Sent: Tuesday, 17 October 2006 4:21 PM
To:
Subject: [canberrabirds] Re:black-headed gull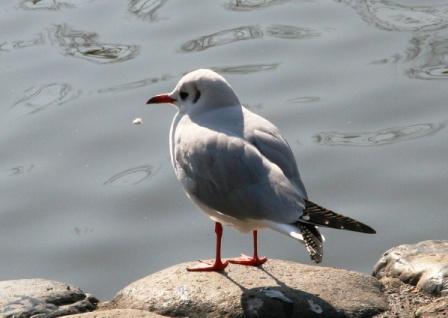 This is indeed a photo of a Black-headed Gull, although I have no idea as to how eclipse plumages affect the colouration of the bird. However, I do know that the photograph was taken near Tokyo in January. Any thoughts about the next photo...I'm not sure of the identity of the bird. Similar place and time.
Tobias
P.S. Closer to home, would someone enlighten me as to the differences between a Skylark and a Pipit?