| | | |
| --- | --- | --- |
| | canberrabirds | |
Quiz 4
| | |
| --- | --- |
| To: | "'Geoffrey Dabb'" <>, <> |
| Subject: | Quiz 4 |
| From: | "Mark Clayton" <> |
| Date: | Mon, 3 Jul 2006 16:59:44 +1000 |
Re clue number 11 - I didn't know there was a species called "Bludging" !
M
---
From: Geoffrey Dabb [
Sent: Monday, 3 July 2006 4:09 PM
To:
Subject: [canberrabirds] Quiz 4
Clues, guidelines etc
One point for each species identified, except for 8, 9, 15, 17, 22, 25, 26 & 30 where there is one point for getting the noun in the common name and one for getting the full name.

All figures are from photos and are not necessarily to scale; bills and/or tails might appear fore-shortened due to angle of view.

None of the species was in the last quiz.

All except one have been recorded around Canberra.

One (and only one) species appears under 2 numbers ie it's here twice..

Two are VERY VERY uncommon in the ACT, and another is VERY uncommon; 2 others might not be recorded in a given year.

The names of 5 species contain all the vowels in the alphabet.

Three names contain a common adjective; another 2 contain another common adjective.

Five names contain 'White-', but there is no 'White-fronted'.

One name contains a name of a country other than Australia.

One is a national pastime.

One shares a first name, more or less, with Vivien Leigh's character in

Gone with the Wind

None has a first name that rhymes with 'footy'

Be careful with the ducks.

22 points - good; 27 points - superior; 32 points – Ace Spotter; 37 points – positively uncanny [40 points max]

Queensland

entries subject to a 10% penalty.
Send your conclusions to me if you want to, not to the list.
May I present a recent testimonial received via email? "Earlier this year I was introduced to bird-watching and was beginning to derive great pleasure from learning to recognize the different birds in my suburb. However, since attempting one of your quizzes I have become confused and depressed, and have given up the activity altogether."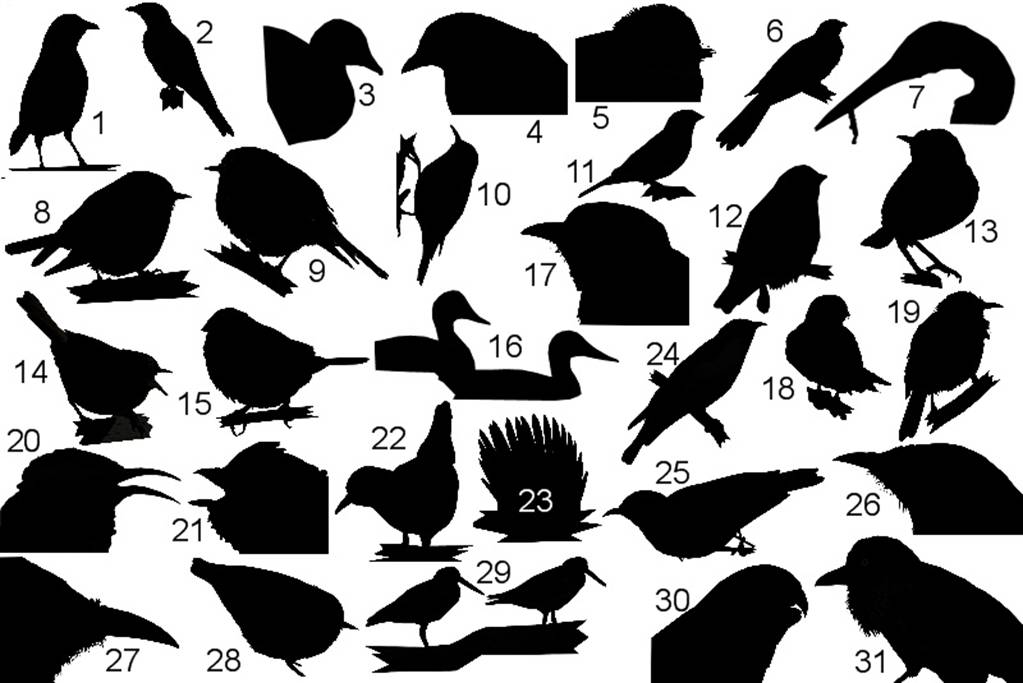 Admin
The University of NSW School of Computer and Engineering takes no responsibility for the contents of this archive. It is purely a compilation of material sent by many people to the Canberra Ornithologists Group mailing list. It has not been checked for accuracy nor its content verified in any way. If you wish to get material removed from the archive or have other queries about the list contact David McDonald, list manager, phone (02) 6231 8904 or email . If you can not contact David McDonald e-mail Andrew Taylor at this address: andrewt@cse.unsw.EDU.AU