| | | |
| --- | --- | --- |
| | canberrabirds | |
Electus Parrots
| | |
| --- | --- |
| To: | <> |
| Subject: | Electus Parrots |
| From: | "Nothrop" <> |
| Date: | Wed, 24 Aug 2005 21:32:35 +1000 |
A friend who lives in the suburb of McGregor called by today and casually mentioned that about 3 weeks ago she awoke to find a dozen male and female Electus Parrots feeding on a Hakea at her front door. She is not a birdo but well knows King Parrots, rosella's etc and she identified the Electus from "a bird book". I was in total disbelief of course but she went on to say they were reported in the Canberra Times the next day.
To save our friendship, can anyone confirm the validity of the story and if so where did the Electus come from?
On the subject of doubt, after many hours over a few days wandering among casuarinas on Mt Majura, I was about to reach the conclusion that these reports of Glossy Black Cockatoos were an elaborate hoax. But today I met the attached pair on the south face towards Mt Ainslie. They DO exist but they really are a needle in a haystack.
Lindsay Nothrop
Attachment: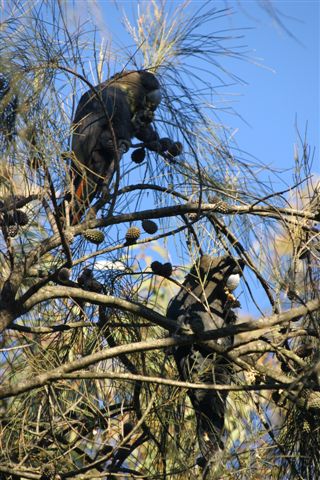 *******************************************************************************************************
This is the email announcement and discussion list of the Canberra 
Ornithologists Group. 
List-Post: <> 
List-Help: <> 
List-Unsubscribe: <> 
List-Subscribe: <>
List archive: <http://bioacoustics.cse.unsw.edu.au/archives/html/canberrabirds>
List manager: David McDonald, phone (02) 6231 8904; email 
<>
Admin
The University of NSW School of Computer and Engineering takes no responsibility for the contents of this archive. It is purely a compilation of material sent by many people to the Canberra Ornithologists Group mailing list. It has not been checked for accuracy nor its content verified in any way. If you wish to get material removed from the archive or have other queries about the list contact David McDonald, list manager, phone (02) 6231 8904 or email . If you can not contact David McDonald e-mail Andrew Taylor at this address: andrewt@cse.unsw.EDU.AU