| | | |
| --- | --- | --- |
| | canberrabirds | |
Darter feeding
| | |
| --- | --- |
| To: | <> |
| Subject: | Darter feeding |
| From: | "Geoffrey Dabb" <> |
| Date: | Sat, 12 Mar 2005 15:58:39 +1100 |
I don't know if local birdwatchers are interested in this kind of continuing local event, but some might be. Darter nests at all stages can still be found in those lakeside spots where they have been reported. The feeding can be quite spectacular, but allow some space so you don't cause the chicks to evacuate (in either sense). You don't need to go by boat - which might well be more disturbing to the nesters. The enclosed 2 very low-resolution frames were taken from video I got during last week. In the first, if you look carefully, 4 chicks can just be seen. The second shows the extraordinary distension of the throat by both the adult - in this case a female - and the fed chick. The bills are evidently far more flexible than one would expect from their sharp dagger-like appearance. You may wish to reassure any watching child that the chick is not being swallowed.



               Geoffrey Dabb
email    :   
ph/fax   :   02 6295 3449


Attachment: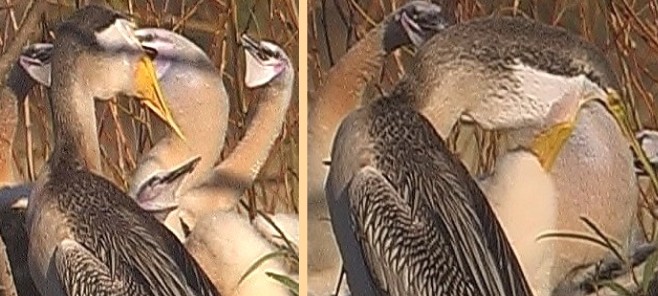 *******************************************************************************************************
This is the email announcement and discussion list of the Canberra 
Ornithologists Group. 
List-Post: <> 
List-Help: <> 
List-Unsubscribe: <> 
List-Subscribe: <> 
To contact David McDonald, list manager, phone (02) 6231 8904 or email 
<>.
<Prev in Thread]
Current Thread
[Next in Thread>

Darter feeding, Geoffrey Dabb <=
Admin
The University of NSW School of Computer and Engineering takes no responsibility for the contents of this archive. It is purely a compilation of material sent by many people to the Canberra Ornithologists Group mailing list. It has not been checked for accuracy nor its content verified in any way. If you wish to get material removed from the archive or have other queries about the list contact David McDonald, list manager, phone (02) 6231 8904 or email . If you can not contact David McDonald e-mail Andrew Taylor at this address: andrewt@cse.unsw.EDU.AU