Well, the joint excursion with the Majura Friends was alarmingly close to
birdless with the arrival of VERY windy and somewhat drizzly conditions.  It
was almost embarrassing when, at the end, the MFs asked our Barbara for a
copy of her very modest bird list, which lacked even a currawong.  I had
scanned the lowering skies desperately and frequently for a passing apodid,
but no luck there either.  My thanks to the COG fifth column, half-dozen
strong, which turned up to help scout for the odd tweetie, even if these
only rarely interrupted the relentless discussion of invasive plant species.

Meanwhile, on a different subject, the enclosed graphic might be forgiven, I
hope, as a product of pre-Majura-low-pressure-syndrome or perhaps early
Fall-depression. A sequel-graphic exists, but will be sent only to
requesting Deathcatlovers and megapodophiles (about 150 kb).


               Geoffrey Dabb
email    :   
ph/fax   :   02 6295 3449


Attachment: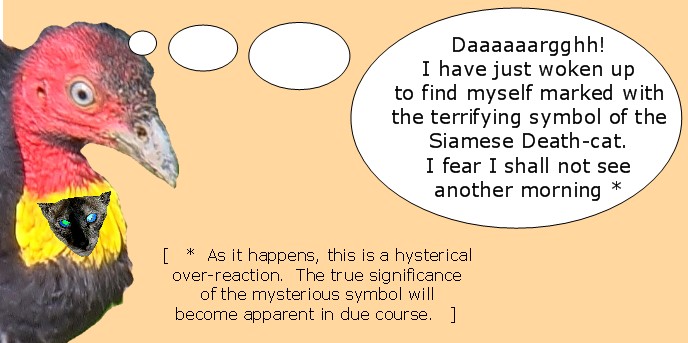 *******************************************************************************************************
This is the email announcement and discussion list of the Canberra 
Ornithologists Group. 
List-Post: <> 
List-Help: <> 
List-Unsubscribe: <> 
List-Subscribe: <> 
To contact David McDonald, list manager, phone (02) 6231 8904 or email 
<>.