Thanks for response. The photo is a hard one but the mention of beach is no surprise. So yes I forgot to mention the obvious that location is usually a clue. That shape and colour pattern of the grey edge curving round the white inner web is typical I think, of many sea birds. It could from just off the top of my head but also a quick look at the HANZAB illustrations it is matches a shearwater, prion or at least of that group. But with no size I can't do better than that. The primaries would be dark grey on the upper surface and pretty close to white underneath, that narrows the options a bit. I suspect it would have a rather oily feel. I think most seabirds do. Or dead sea birds are often more scungy than dead land birds just because of the situations they are found.
From: Robin and Rupert Irwin [
Sent: Wednesday, 27 January, 2021 3:01 PM
To: Philip Veerman
Cc: ; Chatline Canberrabirds;
Subject: Re: [Birding-Aus] Feathers
Thank you all for your comments and suggestions re feathers. Particularly enjoyed reading your email Philip, but made me feel quite inadequate! I did try to find an Australian feather book to no avail, thus my request. I am aware that there are certain places where feathers cannot be picked up having been told off some time ago by a birder in the NT. And just a quickie, this very ordinary feather was picked up on Whites Beach in Torquay, Victoria. Any clues?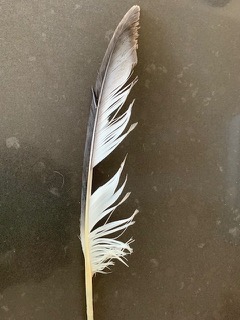 On 27 Jan 2021, at 10:57 AM, Philip Veerman <> wrote:

Hello Robin,

A few ways to address this: You can do your own research about such a book but I have never seen one. It is a good idea, actually it is a crazy idea but would be fun to try. Maybe if I had another 15 years of available time and travel resources to indulge such a pursuit I might do it, but there is really no financial incentive to embark on such a task (would cost a fortune to do it and no real return). Think about how many different colour patterns there are on just one bird. Most good books about bird biology will include a chapter or section about feathers: structure, moult, growth, etc. Not many such books are about Australian birds but then the subject is world-wide. However I don't think that is what you are asking. I suspect you are asking about how to identify feathers that you might happen to find unattached from their bird. Having thought that, I will indulge everyone on my thoughts and hope that is really what you are asking. I will also send onto cog list as readers there may be interested.

I consider myself as pretty good at this skill. Of course there are others around who are too. In April 2015 I gave a presentation on that subject (at the COG monthly meeting) and have the file still on powerpoint. The best that can do is provide initial tips. I am not going into the aspect of identifying them from chemical analysis, because that is not available to the ordinary person just by looking. I learned most from collecting them through many of my young years (mostly up to 40 years ago). Working out what they are, labelling and putting in boxes and keeping a card register system. Doing this does not have any of the damage associated with the far more common habit of egg collecting (which never attracted me). It was a lot of fun to me at the time. My collection was all from things just picked up, birds from captivity, dead birds found by roadside, bush or beach, etc. I even went to the bother of getting an official government permit for doing so. I also spent many hours in the Melbourne and later Brisbane museum checking or verifying the conclusions I had reached. Mostly by myself or sometimes getting help from - if I remember the names right - McEvey & Vernon respectively. One I especially remember was one of the early records of Red-chested Button-quail in Victoria (in 1975) how I found a pile of feathers and was pretty sure they were of the Red-chested Button-quail (we were there with the specific intent of looking for them across the border), at the edge of a grain paddock near Dookie, after having seen many in NSW (in the same habitat on a particularly good season) and going into the museum basement with McEvey to check the specimens against my feathers. The colour pattern was a distinct match. I wrote it up for The BO and it was I think my first published bird report. I still have the feathers.

Doing so I get to understand the principles of working out what things are. The main points are: by the shape of feathers you can normally get a pretty good idea of what part of the bird they are from. Then knowing where they fit on the birds, the size will give a good indication of the size of the bird. That is why requests for help by a photo should always include a ruler or some sign of scale. I have had some pretty crazy suggestions like where a person asked if a feather could be of species A when the feather itself was almost as big as the whole bird. Texture and feel will give many clues, e.g. owls and frogmouth feathers are soft and fluffy. Strongly flying birds like falcons have fairly stiff flight feathers. Having done that you translate the information available about colours to know what part of the bird to look at in the available books. Most important is to relate to that when you are looking at a feather you see the whole thing. On a live bird, especially with wings shut, you only ever see the outer edges. Think about the inner edges, often the colour arrangement of wing and tail feathers is totally different on inner and outer webs, translate that to the colour pattern on under and upper surface of spread wing and tail. Interpret the whole thing into what is on the whole bird and that is the most important clue. Then again we all should get to know the really obvious ones that account for the majority of: "what bird is this from" questions: they are the Tawny Frogmouth and the inner secondary feathers of White Ibis that are white with the fluffy black inner webs.

Philip

-----Original Message-----
From: Birding-Aus On Behalf Of Robin and Rupert Irwin
Sent: Tuesday, 26 January, 2021 1:33 PM
To:
Subject: Feathers

I'm wondering whether there has been a book published on Australian bird feathers.
Robin Irwin
<HR>
<BR> Birding-Aus mailing list
<BR>
<BR> To change settings or unsubscribe visit:
<BR> http://birding-aus.org/mailman/listinfo/birding-aus_birding-aus.org
</HR>
<HR>
<BR> Birding-Aus mailing list
<BR> 
<BR> To change settings or unsubscribe visit:
<BR> http://birding-aus.org/mailman/listinfo/birding-aus_birding-aus.org
</HR>