| | | |
| --- | --- | --- |
| | birding-aus | |
Starlings
| | |
| --- | --- |
| To: | "'Geoff Shannon'" <>, "'Jenny Stiles'" <> |
| Subject: | Starlings |
| From: | "Paul Doyle" <> |
| Date: | Sat, 1 Aug 2020 12:28:14 +1000 |
Attached the corresponding info from Ireland.
There has been a modest decline (7%) in Ireland over 20 years, and a similar decrease in continental Europe, during the time that the population in Britain has collapsed ~ 50%.
Food availability is posited here as a probable factor.
Paul.
From: Birding-Aus <> On Behalf Of Geoff Shannon
Sent: Saturday, 1 August 2020 11:01 AM
To: Jenny Stiles <>
Cc: Michael Hunter <>; <> <>
Subject: Re: [Birding-Aus] Starlings
Interesting series of reports. Here in W Tasmania no problems. Flock 550 in paddock last night. BUT the population in UK is falling and has been raised to RED status because of this.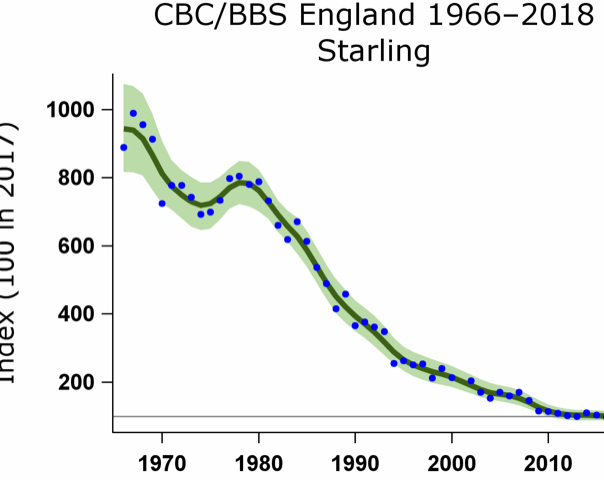 From British Trust for Ornithology. More details on website.
Geoff Shannon
On 31 Jul 2020, at 08:58, Jenny Stiles <> wrote:

Hi Michael,
We see large flocks of Starling in the Richmond Lowlands & Windsor areas. There are also small flocks at Sydney Olympic park & at all the Eastern suburbs beaches, so they are certainly still about in Sydney.

Jenny Stiles




-----Original Message----- From: Michael Hunter
Sent: Thursday, July 30, 2020 10:46 PM
To: <m("birding-aus.org","birding-aus");">>
Subject: [Birding-Aus] Starlings

Hi everyone,

Where have all the European Starlings gone. ? Once were thousands in Sydney, none. seen for a few years around Penrith, Springwood or elsewhere. Zero.

? Disease, Have I missed something ?

Their absence not a regret , just a mystery.

TIA

Michael
Sent from my iPhone
<HR>
<BR> Birding-Aus mailing list
<BR> m("birding-aus.org","Birding-Aus");">
<BR> To change settings or unsubscribe visit:
<BR> http://birding-aus.org/mailman/listinfo/birding-aus_birding-aus.org
</HR>

--
This email has been checked for viruses by AVG.
https://www.avg.com


<HR>
<BR> Birding-Aus mailing list
<BR> m("birding-aus.org","Birding-Aus");">
<BR> To change settings or unsubscribe visit:
<BR> http://birding-aus.org/mailman/listinfo/birding-aus_birding-aus.org
</HR>

Countryside Bird Survey Starling.pdf
Description: Adobe PDF document
<HR>
<BR> Birding-Aus mailing list
<BR> 
<BR> To change settings or unsubscribe visit:
<BR> http://birding-aus.org/mailman/listinfo/birding-aus_birding-aus.org
</HR>

Admin
The University of NSW School of Computer and Engineering takes no responsibility for the contents of this archive. It is purely a compilation of material sent by many people to the birding-aus mailing list. It has not been checked for accuracy nor its content verified in any way. If you wish to get material removed from the archive or have other queries about the archive e-mail Andrew Taylor at this address: andrewt@cse.unsw.EDU.AU