| | | |
| --- | --- | --- |
| | birding-aus | |
FW: 'Native' birds on the new $5 banknote
| | |
| --- | --- |
| To: | "" <> |
| Subject: | FW: 'Native' birds on the new $5 banknote |
| From: | Richard Johnstone <> |
| Date: | Tue, 12 Apr 2016 09:25:36 +0000 |
The colours of the rear part of the body are reminiscent of Paradise
Tanager, from South America.

-----Original Message-----
From: Birding-Aus  On Behalf Of
Peter Shute
Sent: Tuesday, 12 April 2016 6:15 PM
To: Neil Cheshire
Cc: 
Subject: 'Native' birds on the new $5 banknote

Here it is. It's supposed to be an Eastern Spinebill. Is there any species
like that in other countries?

Attachment: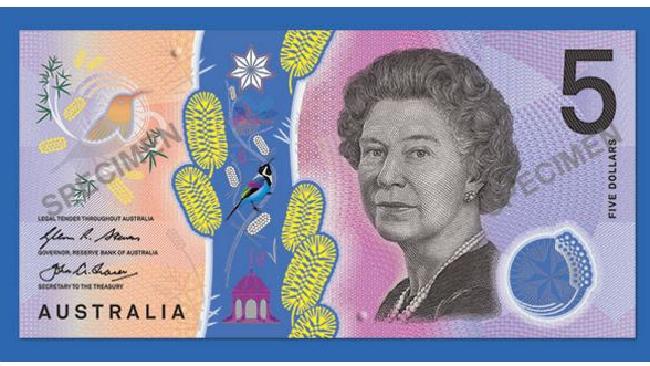 Description: image1.JPG

ATT00001.txt
Description: ATT00001.txt

Untitled attachment 01869.txt
Description: Untitled attachment 01869.txt

ATT00001.txt
Description: ATT00001.txt
<Prev in Thread]
Current Thread
[Next in Thread>

'Native' birds on the new $5 banknote, Neil Cheshire

'Native' birds on the new $5 banknote, Peter Shute
'Native' birds on the new $5 banknote, Philip Veerman
'Native' birds on the new $5 banknote, Bill Stent
'Native' birds on the new $5 banknote, John Tongue
FW: 'Native' birds on the new $5 banknote, Richard Johnstone <=
'Native' birds on the new $5 banknote, Laurie Knight
'Native' birds on the new $5 banknote, Mick Roderick via Birding-Aus
'Native' birds on the new $5 banknote, Peter Morgan
FW: 'Native' birds on the new $5 banknote, Tony Russell
'Native' birds on the new $5 banknote, John Tongue
'Native' birds on the new $5 banknote, Peter Morgan
'Native' birds on the new $5 banknote, Stephen Ambrose
'Native' birds on the new $5 banknote, Denise Goodfellow
'Native' birds on the new $5 banknote, Philip Veerman
'Native' birds on the new $5 banknote, Peter Shute
Admin
The University of NSW School of Computer and Engineering takes no responsibility for the contents of this archive. It is purely a compilation of material sent by many people to the birding-aus mailing list. It has not been checked for accuracy nor its content verified in any way. If you wish to get material removed from the archive or have other queries about the archive e-mail Andrew Taylor at this address: andrewt@cse.unsw.EDU.AU